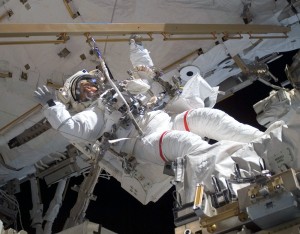 A total of 12 students are learning life lessons from a retired astronaut.
Clayton Anderson, senior lecturer and retired U.S. astronaut, said his goal isn't to necessarily train the next generation of astronauts, but to teach students to think in ways they haven't before.
Ten students from Iowa State University and two from Tuskegee University in Alabama are spending a week learning spaceflight operations.
Students spend 11-hour days scuba diving, skydiving, learning how to do survival training and flying flight simulators, among other lessons.
"In order to make them more attractive to employers, I'm trying to get them to change the way they think and to think more operationally think like an operator, think like an astronaut," Anderson said.
Still, Tuskegee University student Ty Singleton said astronaut training is what drew him to the workshop.
"I'm from Huston, Texas, so I grew up around NASA. My whole life I've always wanted to be an astronaut," Singleton said.
If the other students aren't as enthusiastic about becoming an astronaut, Anderson said they'll still walk away from the workshop with the ability to think in new ways.
"If they're not going to be an astronaut someday, they will be a more effective person wherever they go with whatever they do," he said.
This is second year the workshop has been held. Anderson said he hopes to eventually make spaceflight operations an academic minor at Iowa State.
For the original KCCI story, click here.