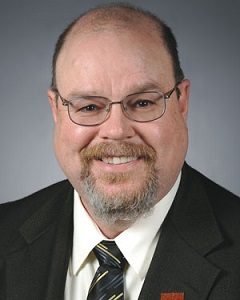 JAY D. HARMON, P.E., ASABE Fellow, is the recipient of the 2015 G.B. Gunlogson Countryside Engineering Award for his exemplary service to animal production systems through the application of engineering principles and performance in research, extension, outreach, and teaching.
Harmon, professor and extension livestock housing specialist in the agricultural and biosystems engineering department at Iowa State University, has developed a technology transfer and research program in livestock housing issues with an emphasis on ventilation and heating sys- tems that accommodate animal welfare concerns. Recognized as a national and international author- ity in delivering extension education programs
in livestock housing systems, Harmon is in high demand as a consultant by the livestock industry. He has provided leadership in conducting exten- sion workshops on ventilation education for swine producers and hoop structures for alternative swine housing systems. His teaching responsibilities include instruction in wood structure design, and online short courses in ventilation and manure management.
Harmon has played an important role as professor-in-charge of the Midwest Plan Service (MWPS) since 2004, a publishing consortium of twelve universities and the USDA. In this position he has skillfully guided the MWPS toward a smaller and more economically viable organization capable of executing its mission of publishing, for engineers, producers, and citizens across the U.S., new and highly relevant research-based materials on a vari- ety of topics facing rural populations.
Harmon has authored or co-authored more than 330 refereed and technical publications, abstracts, extension education articles, and popular press articles. He has also contributed his expertise to ten MWPS publications.
During his 35-years of ASABE membership, Harmon has provided leadership to Plant, Animal, & Facility Systems and Education committees, along with two ASABE-sponsored conference committees. He is currently serving in his third and final year as
a member of the Board of Trustees. Harmon has been a tireless advocate for professional licensure through his involvement in various officer positions, including chairing EOPD-414 Engineering Licensure committee and as a member of the Professional Engineering Institute. He recently helped to develop the new ASABE incentive program for first- time exam takers toward increasing the numbers
of examinees.
His awards and honors include Iowa State University College of Agriculture and College of Engineering extension and team awards, and a College of Agriculture and Life Sciences Dean's citation. In 2011, Harmon was inducted as an ASABE Fellow, and selected to receive the Henry Giese Structures and Environment award. His other ASABE awards include eight Educational Aids Blue Ribbon awards, a Paper award, and a Presidential citation. Harmon is currently a member of the American Society of Heating, Refrigeration and Air Conditioning Engineers, and the National Frame Builders Association, where he is a Hall of Fame inductee. He is a member of four honorary societies.
For the original ASABE post, click here.