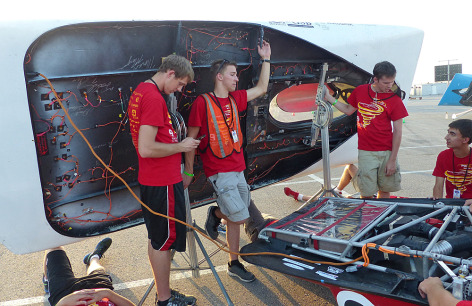 This story was originally published with the Iowa State New Service. 
It was 104 degrees in the pits at the Circuit of the Americas race track in Austin, Texas, on Thursday. And that was a problem for some of Team PrISUm's closest competitors in the three-day, 15-team Formula Sun Grand Prix.
Some teams had to pull off the track for long stretches to cool their overheated battery packs, said Matt Goode, a junior from Coggon who's studying mechanical and materials engineering and is Team PrISUm's project director.
But not Phaëton, Team PrISUm's 12th solar racing car in 25 years of racing. Phaëton just kept turning laps, completing a total of 70 for the day.
That gives Team PrISUm at total of 146 laps over two days and 16 hours of racing. Its closest competitor, Illinois State University, is 21 laps behind.
But Missouri S&T has clocked the fastest lap of the race, 4 minutes 49, some 30 seconds faster than Team PrISUm's best lap. Isn't that cause for concern?
Not to worry, said Goode.
"Those teams are flexing their muscles," he said. "Fast laps aren't efficient. They're accelerating around the entire track. That's extremely wasteful."
Team PrISUm has a bigger goal in mind.
"Our thought is why try to get the fastest lap when we can take the whole thing," he said.
Besides, there's rain in Friday's forecast and a solar car is going to need every bit of power it can collect and store.
So, is the team optimistic about its chances for its first overall victory? (Team PrISUm took first place in the stock class at the 2005 Formula Sun Grand Prix. The race no longer divides cars into classes based on their power.)
Well, Goode said, things happen in racing. Team PrISUm had a tire go down in today's racing. That only cost the team a few minutes, but it could have been worse.
"We're optimistic," he said. "But tonight will be a long night. We're going to make sure everything is good to go."