Student organizations work on real-life design challenge
The College of Engineering hosted its first ever crowdsourcing day with Caterpillar on April 11, 2015. Seven student organizations that work with engineering design were invited to participate in this full-day challenge to solve a real problem the company was facing.
Students were charged with developing a new method to attach the shoe of a tractor or bulldozer to the track. "The representatives from Caterpillar that helped run the event said this is a problem that they've been working on for about a year," said Gary Mirka, associate dean of academic affairs for the College of Engineering. "They've had their engineers work on different solutions, but they wanted to give others a chance to work on it as well."
Jim Heise, senior lecturer of mechanical engineering and one of the co-organizers of the event, said everyone was pleased with the students' work. "There were a lot of good ideas generated. Caterpillar was impressed with the attitude and the enthusiasm a lot of the students carried. "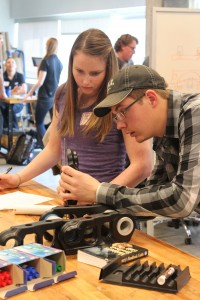 Each group came up with a unique solution to the problem. Mirka said, "The winning solution was one that Caterpillar had been considering for some time, but they specifically said that there was an interesting twist that the student team's design had that they hadn't considered."
Team PrISUm, Iowa State's solar car team, won the event and was granted $2,500 for its organization. Heise said Team PrISUm was especially good at "thinking outside of the box and asking the right questions." The remaining clubs—ISU Robotics club, ISU Lunabotics club, ITech club, Cyclone Power Pullers, Clean Snowmobile club and SAE International, were all awarded $500 for participation.
The event's success could mean big things in the future. "Caterpillar is already planning to come back in the fall for another event," said Heise. He added that other companies might also be interested in doing similar activities with the same sort of opportunities for the students.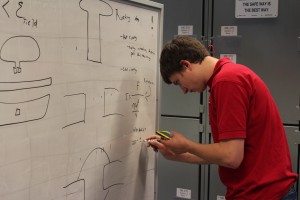 Overall, Mirka said the event showcases the kind of engineering design work the college hopes would be found at the proposed Student Innovation Center. "There's a very strong curricular component combined with a relatively strong co-curricular component (our student organizations) doing hands-on experiential learning by building things," Mirka says. "Extra-curriculars like this event are largely unscripted and let engineering students simply practice design work."
Heise summed the event up as "one very exciting day of very intense design and a whole lot of enthusiasm."