Ron Leonard joins ABE department after graduating in 1956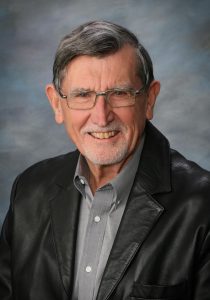 After Ron Leonard's 41-year career concluded at John Deere, his heart was still at Iowa State, where he graduated in 1956. That's one reason he's thrilled to be joining the agricultural and biosystems engineering department as an associate professor. "I was coming home to where it all began," he said.
Leonard says he kept in contact with professors and students, developed leadership skills and stayed up-to-date with technology while working at John Deere through his involvement in ASAE and SAE.
After retiring from Deere, he served as president of SAE and was elected to the National Academy of Engineers. He says he especially appreciated that the professional organizations he was involved with had active STEM programs that focused on classroom projects, like making models, to develop young students' interest in learning how things work.
For many years, Leonard returned to Iowa State to serve on the ABE department external advisory committee. This renewed his interest in working with students and led to him establishing a scholarship on "Innovation and Creativity" in ABE.
Leonard knows his success is due to the connections with past professors from his undergraduate and graduate studies. He took a brief sabbatical from Deere to pursue his master's at Michigan State, where he was mentored by Wes Buchele, professor emeritus in Iowa State's ABE department. Buchele was part of the reason Leonard attended Michigan State, and the two have stayed close throughout the years. "I will always be indebted to Wes for everything I was able to accomplish."
After graduating from Michigan State, Leonard returned to Deere, where he stayed until retirement. Although the products were the focus in the company, his passion laid in building teamwork and consensus with large groups of people. He especially valued working with other national cultures including France, Germany, Japan, India, Brazil, Italy and Mexico.
Leonard continued to foster connections during retirement through his consulting firm. One memorable consultation was at Apple to teach them about doing business in the Japanese culture. "It was cool that I had something to offer that they were interested in," he reflected.