The College of Engineering recently recognized three engineering alumni under the age of 46 who have achieved outstanding professional progress, personal development and distinguished community service.
Michael Determan (B.S. Chemical Engineering and Economics '01 and Ph.D. Chemical Engineering '06), Kendall Griffith (B.S. Construction Engineering '92)  and Venkat Raman (Ph.D. Chemical Engineering '03) received the Professional Progress in Engineering Award during the Marston Club Dinner held April 16.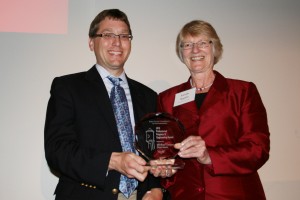 Michael Determan, the son of two Iowa State graduates, was born and raised near the farming communityof Haverhill, Iowa. After completing his ISU undergraduate degree – which included internships at Fisher Controls Inc. in Marshalltown, Iowa and the Dow Chemical Company in Midland, Mich. – he continued his graduate studies in the Department of Chemical and Biological Engineering. He graduated in 2006 with a Ph.D. after completing his dissertation on "The Synthesis and Characterization of Stimuli Responsive Amphiphilic Pentablock Copolymers."
Determan accepted a position as a polymer chemist at General Electric Plastics in Mt. Vernon, Ind. in 2005. In 2006 he moved to 3M in St. Paul, Minn. as a senior research scientist in the corporate materials research laboratory where he focused on pressure sensitive adhesive materials for optical electronic and health care applications. He is a co-author on 11 granted patents with 13 applications pending, seven journal articles and a book chapter. In 2009 Determan was awarded the 3M corporate level Circle of Technical Excellence and Innovation award in recognition for his work on Gentle to Skin Silicone Adhesive technology. He is currently a technical manager in the pressure sensitive adhesive and release materials cluster of 3M's corporate research laboratory.
Determan is married to Amy Determan (CBE B.S. '01, Ph.D. '06) where they live in Mahtomedi, Minn. with their two children.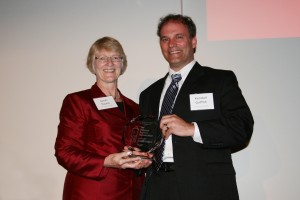 Kendall Griffith currently serves as vice president and general manager of Mortenson's Minneapolis office, overseeing all aspects of commercial projects in Minnesota, Iowa, North Dakota and South Dakota. He is responsible for the overall strategy development and direction of the group, including relationship management, preconstruction, construction and business development activities and ensuring that Mortenson delivers the resources necessary to meet project commitments.
Griffith's leadership is based on a long and successful track record in the industry working on several large world-class projects such as the Minnesota Multi-Purpose Stadium, Target Field, Sanford Fargo Medical Center, Walker Art Center Expansion, TCF Bank Stadium, Radisson Blu Hotel, and the ISU Marston Hall Renovation. Trust, communication and commitment to meeting customer expectations are his most important attributes.
Griffith is a LEED Accredited Professional and currently serves as a board member of AGC of Minnesota, the ACE Mentor Program of the Twin Cities and the USGBC Minnesota Chapter.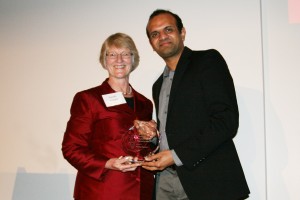 Venkat Raman is an associate professor in the Department of Aerospace Engineering at University of Michigan. He received a Ph.D. in chemical engineering from Iowa State University in 2003, and was a postdoctoral fellow at the Center for Turbulence Research at Stanford University from 2003-05.
Prior to joining Michigan in 2014, he was an assistant professor and then associate professor at The University of Texas at Austin. Raman has received many awards including: the National Science Foundation CAREER Award in 2008, a distinguished paper award at the International Combustion Symposium in 2012, the Moncrief Grand Challenge Award in 2013, and the Eli H. and Ramona Thornton Centennial Fellowship at UT Austin in 2013-14.