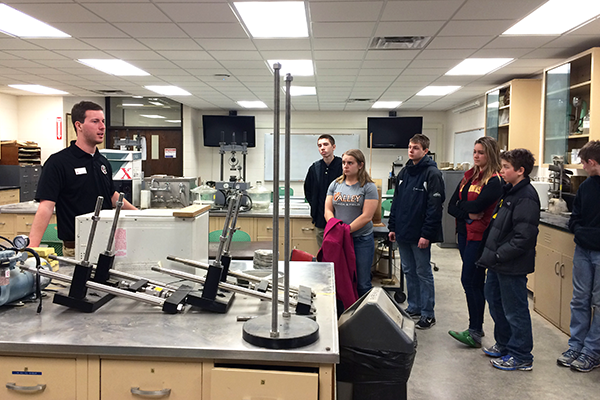 Construction engineering sophomore Devin Gaudette remembers touring Town Engineering Building and the College of Design while a student at Southeast Polk High School in Pleasant Hill, Iowa. "I though the Jellinger Lab was cool, which opened my eyes to industry mentorship," he said.
In high school, Gaudette participated in the Architecture-Construction-Engineering (ACE) Mentor Program of Central Iowa. In addition to Iowa State tours, he worked with engineers and architects on the West Des Moines Public Library project. "I enjoyed the interaction with businesses beyond the teacher-student experience," he said.
On March 7, Gaudette became a mentor to help lead 60 Des Moines area high school students and their parents on an ACE Mentor Program Visit. Faculty, students and staff from the Iowa State University College of Design and the Department of Civil, Construction and Environmental Engineering (CCEE) led younger students in facility tours and activities.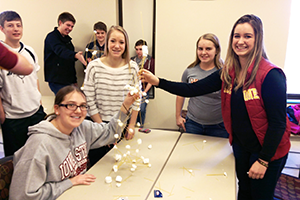 Eight Iowa State construction engineering students coordinated Town Engineering Building lab tours and moderated a spaghetti noodle-marshmallow tower building contest. In addition to Gaudette, student mentors included senior Keaton Banwart, junior Carson Bruess, senior Kelly Henrichs, senior Eric Laures, senior EJ Lines, freshman Matthew Rosendale, and senior Chad Tenold.
Tenold enjoyed working with high school students one-on-one. "I think they like learning about construction engineering from a current student perspective," he said. "They get to know what the program is really about."
Henrichs said she liked being a resource for non-construction engineering issues, like Women in Science and Engineering (WiSE) and living in the dorms, for instance.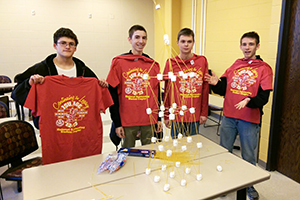 College of Design faculty and students led program tours in landscape architecture, architecture, and industrial design. A notable stop was the Forward Learning Experience (FLEx) mobile technology lab. Participating faculty were landscape architecture professor and chair Ken McCown, architecture professor Gregory Palermo, and industrial design lecturer Pete Evans. Participating students were architecture senior Becca Baldus, landscape architecture senior Gage Berger, community and regional planning sophomore Victoria Fanibi, architecture senior Tony Gonzalez, landscape architecture senior Sarah Jensen, landscape architecture senior Tom Martin, and industrial design junior Limay Vong.
The ACE Mentor Program of Central Iowa partners high school students with industry and academic representatives to open architecture, construction, and engineering career opportunities in the greater Des Moines area. Larry Cormicle, CCEE senior lecturer and Weitz Faculty Fellow, is on the ACE Mentor Program of Central Iowa Board of Directors. He arranged the March 7 tours and presented on the Iowa State civil and construction engineering programs.