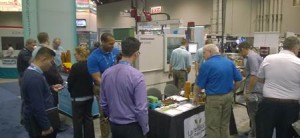 For an on-site demonstration of injection molding with biobased plastics, booth S-18189 of the Center for Bioplastics and Biocomposites (CB2) in the Sustainability Pavilion was the place to be at NPE2015. That's where biobased plant containers were molded from Bio-Res PLA, a 100% renewable and compostable plastic.
The Bio-Res PLA plant containers are part of a five-year study of the production and performance of various bioplastic pots led by CB2 faculty members at Iowa State University. The study is supported by a grant from the U.S. Department of Agriculture.
"These biobased plant containers are a viable and sustainable replacement for the petroleum-based pots that are currently used," said David Grewell, Director of CB2 and professor of agricultural and biosystems engineering at Iowa State.
For the original article, click here.