Eric Koehlmoos knows just how far a science project can take an Iowa student.
On Monday, the senior at Paullina's South O'Brien High School was at the 2015 White House Science Fair explaining his "Grass to Gas" FFA research project to Bill Nye the Science Guy.
Koehlmoos has learned that treating switchgrass with sulfur can boost ethanol yields and the protein value of the livestock feed that's produced as a coproduct. He's also found that lime treatments can improve fuel and feed production from prairie cordgrass.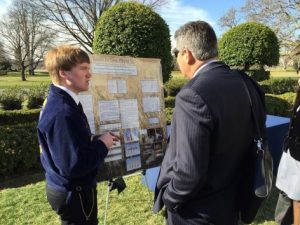 Koehlmoos didn't get a chance to explain his research to President Barack Obama, but he did hear the president exhort science fair students from across the country to, "Keep exploring, keep dreaming, keep asking why."
Later this week, you can ask Koehlmoos all about his research project and his White House visit. He'll be joining nearly 700 students at this week's State Science and Technology Fair of Iowa at Iowa State University's Hilton Coliseum.
The public is invited to see the students and their projects during designated hours:
• On Thursday, March 26, the senior high competition is open from 2 to 6 p.m. and during the 6:30 to 8 p.m. award ceremonies. The competition has attracted 140 projects and nearly 200 high school students.
• On Friday, March 27, the junior high competition is open from 9 a.m. to 6 p.m. and during the 6:30 to 8 p.m. award ceremonies. The competition has attracted 354 projects and nearly 500 junior high students.
The students will compete for trips to an international science and engineering fair, scholarships and prizes.
This is the first year organizers have split the state science fair into a senior high day and a junior high day. Andrea Spencer, the fair director, said the change was necessary because a combined fair was getting too big for the coliseum.
She said the new format should provide more time for judges to talk to students and more space for science workshops.
With the changes, "We just hope the students have a really great science experience," Spencer said. "A big part of that is talking to the judges and professionals and showing off their work."
Eric Kumm, the agriculture instructor and FFA advisor at South O'Brien High, said he encourages students to consider agricultural research projects. He said it's a good way to spark interest and passion for ag science. And he said science fairs are also great places for talented students such as Koehlmoos to make connections, find motivation and look for research opportunities beyond high school.
And what about Koehlmoos? What has he learned from his science fair experience?
"I've learned a lot about science," he said a few hours after his White House visit. "But I've probably learned more about life skills. I've learned not to procrastinate. I've learned how to communicate. I've learned a heckuva lot more than natural science."
This story was originally written by Mike Krapfl of the Iowa State News Service.