Brian Hemesath's entrepreneurial drive has landed him in a position to help fellow Cyclones' business opportunities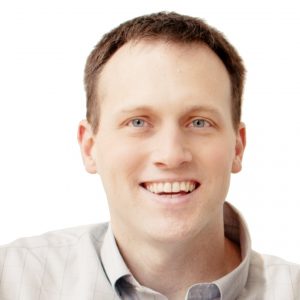 As the managing director of the Global Insurance Accelerator, Brian Hemesath says he's in a position to help others succeed with their own businesses. The 1999 computer engineering alumnus adds that working with Iowa State engineers, people he calls the smartest people on the planet, makes his job even better.
The goal of the Des Moines-based program is to mentor young startup companies that are building solutions for the insurance market. Companies are mentored for 100 days and then present their business to the insurance industry at the Global Insurance Symposium.
The first round of companies recently began the program at the accelerator and included Iowa State industrial engineering graduate students Tyler Fox, Justin Coaldrake and Morgan Hampel. The trio founded ClinicNote, which simplifies filing claims for private practices and insurance companies. Outside of ClinicNote, Hemesath has worked with five other teams that have joined the accelerator. He coordinates mentor meetings, keeps teams progressing towards goals/milestones, and interacts with potential investors and mentors.
Hemesath says the entrepreneurial spirit at Global Insurance Accelerator reflects his own personal drive, which started when he developed basic video games before he went to college. Later, he started a web development company with his brother.
At Iowa State, he enjoyed working with the electrical and computer engineering department, especially senior lecturer Mani Mina. "He was a major part of my development and really made me look at things differently. When I think about my time in the College of Engineering, I think of him."
Hemesath enjoys reminiscing about other memories from his time at Iowa State, including the wide networking opportunities presented to him as a TKE fraternity member. However, his favorite is meeting his wife, Nicole, a 1998 business alumna. They now have three children.