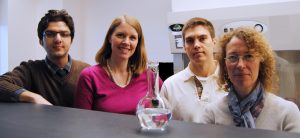 CoE faculty project can help landowners with conservation efforts
The USDA recently awarded Amy Kaleita, associate professor of agricultural and biosystems engineering, and Nicola Bowler, professor of materials science and engineering and of electrical engineering, a research grant to study how to produce a low-cost sensor to monitor nitrate concentration in drainage tile lines. Though the duo has been conducting preliminary studies on this problem for some time, they look forward to continuing their research to find a major solution.
"We have been able to explore this issue through seed grants and small amounts of funding, but receiving the USDA grant will allow us to prove there was something worth pursuing. Having this three-year funded project means we can put in some serious time and effort to tackle the problem," said Kaleita.
Currently, researchers monitoring nitrate concentrations have to physically collect water samples to send to a lab for analysis or invest in expensive sensors that only large municipal water suppliers could afford. Creating a low-cost sensor offers a low-time, low-cost option that could be used by landowners to assess their conservation strategies.
"More cost-effective monitoring will provide not only more widespread data, but also a results-oriented tool for working with farmers to invest in conservation," said Bowler.
The USDA grant, which will last for three years, will support laboratory analysis of controlled samples to determine how novel sensing technology can be best developed to estimate nitrate concentration. Their research will also focus on understanding how the sensor can be applied in the real world and developing a prototype to test in the field environment. Ultimately, it is intended to transfer the technology into production and sales through a smaller, Iowa-based company.
Kaleita says nitrate concentrations research is timely, given the recent lawsuit filed by Des Moines Water Works against Sac, Buena Vista and Calhoun counties regarding high nitrate levels in the Raccoon River. "Working with farmers and investing in additional conservation practices are what is needed," Iowa Secretary of Agriculture Bill Northey stated in a recent article in the Des Moines Register.
Though the sensor in development would not have prevented the lawsuit, Kaleita believes the technology would have supported conservation efforts on individual farms, which were one of the main reasons the Raccoon River had a high level of nitrates.
"It would also help entities, such as a county or drainage district, to be able to prioritize where to spend time and effort on conservation. They would be able to target higher-contributing areas," Kaleita added.
Two graduate students are working with Kaleita and Bowler on the project. Electrical engineering Ph.D. student Amin Gorji-Bandpy is developing the sensing technology. ABE master's student Brett Zimmerman is characterizing environmental conditions to appropriately engineer the sensors for field deployment.