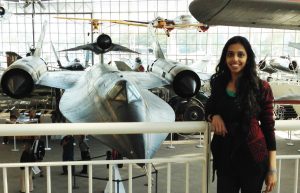 ISU senior travels to United States and sets life goal
Many children dream about what they will be when they grow up, but few achieve this goal. Abhinaya Raghothaman, aerospace engineering senior, is one of the few.
Raghothaman moved from New Delhi, India, to Dubuque, Iowa, when she was 13 years old. She was extremely fascinated by her flight ride, a Boeing 777. This fascination towards airplanes led her to explore what Iowa State's aerospace program had to offer.
However, a solid education is not all Raghothaman has experienced on campus. She shares her passion for aerospace engineering and other STEM fields as a member of several student groups. She was part of the WiSE (Women in Science and Engineering) community during her freshman and sophomore years and that encouraged her to always motivate the involvement of women in STEM fields. Raghothaman was also elected vice president of ISU's American Institute of Aeronautics and Astronautics (AIAA) student branch during her junior year. Her goal was to get more students in the aerospace department involved with AIAA's professional society. At present, she serves as a student advisor for the current AIAA executive board.
Expanding her learning even further, Raghothaman held several internships. She admits her favorite internship was with Boeing Commercial Airplanes in Seattle, where she worked as an aerodynamics engineer on the 777X and other planes. However, Raghothaman believes she also gained invaluable experience while working at John Deere, which prepared her for a job at Boeing.
Now as she gets ready for graduation, Raghothaman anticipates the joy from getting to continue her childhood dream. She will be working with the company that took her across the world eight years ago – Boeing – as an aerodynamics engineer in the aero performance product development group.
She says the best part of being an aerospace engineer is being able to help the community. "I get satisfaction from knowing what I created will help people get from one part of the world to the other, whether it is for work or for personal endeavors. As versatile as the airplane is, one of the things it is best at doing is reuniting families, even if they are halfway around the world. That resonates with me very deeply. When you look at a plane and can say, 'Hey, I worked on that,' it gives me a sense of accomplishment."
She would like to thank her family, who has encouraged and stood by her through everything and without whom none of this would have been possible.  She would also like to thank faculty members, high school teachers, co-workers, classmates and friends who have supported her through her adventures at Iowa State.
"I have found that it is really important to surround yourself with people who believe in you. People who think that you can achieve anything with hard work and passion. These people are always there and give me the lift that I need to overcome any challenge in life." She hopes to continue sharing her Cyclone spirit in the future with fellow ISU alumni at Boeing.