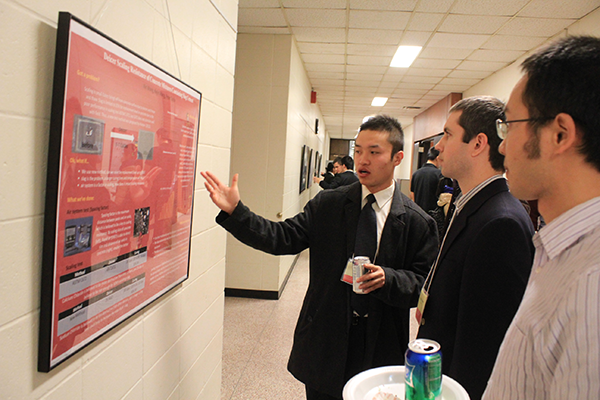 The Civil, Construction and Environmental Engineering (CCEE) department hosted the 4th Annual CCEE Graduate Research Showcase and Poster Competition on Dec. 2. More than 150 students, faculty, and staff attended the event held on the second floor of Town Engineering Building. The CCEE Graduate Student Council organized activities.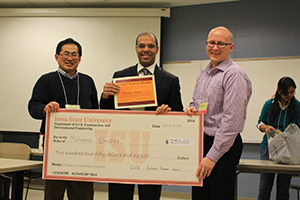 The event showcased research of 25 graduate students within the CCEE department. Students presented their research in a conference-like setting, engaging in lively interactions with their fellow graduate students, faculty, and a panel of judges. Judges were Professor Doug Gransberg, Professor Say Kee Ong, Professor Kejin Wang, Associate Professor Chris Rehmann, Associate Professor Peter Savolainen, Associate Professor Anuj Sharma, Assistant Professor An Chen, Assistant Professor In Ho Cho, Assistant Professor Yelda Turkan, Institute for Transportation engineer Skylar Knickerbocker (BSCE'12), soon-to-be doctoral graduate Andrew Cascione, and soon-to-be doctoral graduate Joseph Podolsky. All posters will remain on display on Town Engineering Building's second floor until next year's competition.
Mohamed Elkashef, a doctoral student in geotechnical/materials engineering, won the poster competition ($250 prize). He presented research on acid-treated carbon nanotubes and their effects on mortar strength. Alireza Sassani, a doctoral student in geotechnical/materials engineering, achieved second place ($200 prize). His research was on mix design development of electrically conductive concrete. Zhengyu Liu, a doctoral student in structural engineering, scored third place ($150 prize). His poster was on an evaluation of the need for longitudinal joints in bridge decks on dual structures.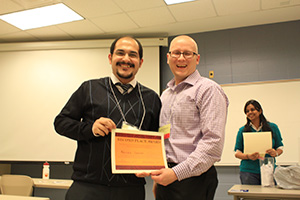 Attendees, by popular vote, chose environmental engineering master's student Guyu Shi for the People's Choice Award ($200 prize). Shi presented on sulfate radical oxidation of 2,4-D using iron activation of persulfate and peroxymonosulfate.
All poster participants received a certificate of participation and a gift card. Door prizes also were given to attendees.
The following endowed CCEE professorships and chairs sponsored the event: James M. Hoover Chair, Donald F. and Sharon A. Greenwood Chair, Cerwick Faculty Professor, W.A. Klinger Teaching Professor, Wilson Professor, Richard L. Handy Professor, Gerald and Audrey Olson Professor, and Pitt-Des Moines Professor.
For more information about CCEE's graduate programs, visit http://www.ccee.iastate.edu/academics/graduate.
Top Posters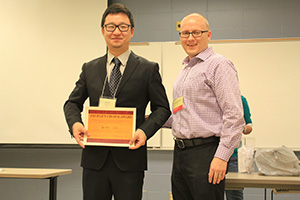 Other Poster Competition Participants
Hesham Abdualla, "Advanced construction techniques for heated pavement"
Firas Al Shalabi, "BrIM implementation for documentation of bridge element condition for inspection"
Hyungjoo Choi, "Strain-based damage detection algorithms on bridge structural health-monitoring system"
Honarvar Ebadollah, "Effects of superstructure time-dependent deformations on bridge column design"
Yueyi Jao, "MEMS moisture sensor for concrete health monitoring" (Electrical and Computer Engineering)
Orhan Kaya, "Investigation of AASHTOWare pavement ME design performance prediction models for Iowa pavement analysis and design"
Chenhui Liu, "Spatial and temporal analysis of red light running citations and crashes in Lincoln, Nebraska"
Micah Makaiwi, "Modeling multi-modal freight transportation network performance under disruptions: Iowa case study"
Brendan Russo, "Evaluating the safety impacts of a high-tension cable median barrier installation program"
Fugang Sheng, "Optimal electric vehicle charger placement problem: a time-of-day parking activity-based approach"
Joseph Shrestha, "DWR based as-built schedule – Powerful but highly neglected application of DWR data"
Mat Wymore, "Structural health monitoring using wireless sensor networks" (Electrical and Computer Engineering)
Therin Young, "Evaluation of spray-coated nanomaterials for superhydrophobic surfaces" (Mechanical Engineering)