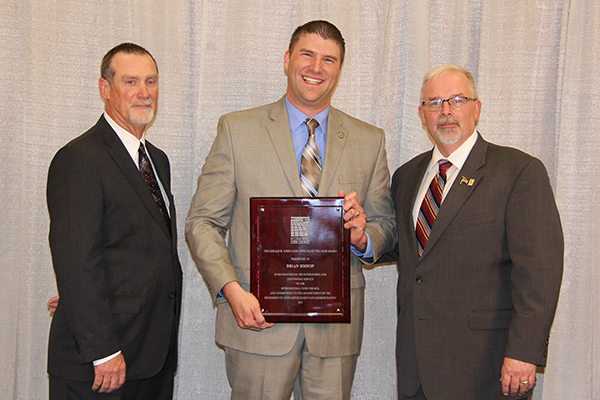 Brian Bishop, a 2004 Iowa State University construction engineering alumnus, was recently named the Gerald H. Jones Code Official of the Year by the International Code Council.
Bishop was particularly recognized for his leadership in creating two programs: the Iowa Building Safety Assessment and Failure Evaluation (B-SAFE) Team and Iowa's first energy code enforcement team. He is a construction/design engineer for the Building Code Bureau of Iowa's State Fire Marshal's Office, part of the Iowa Department of Public Safety.
The Iowa B-SAFE Team comprises engineers and architects who provide state-level structural disaster response, in terms of building inspections, to all Iowa communities. The program was developed from a partnership with the American Institute of Architects Iowa Chapter, Iowa Engineering Society, Structural Engineers Association of Iowa, Iowa Association of Building Officials, Iowa Homeland Security and Emergency Management Department and the Iowa Department of Public Safety. The Iowa Homeland Security and Emergency Management Department has designated this team a state disaster specialty team, which now legally allows the Iowa B-SAFE Team to provide community disaster assistance.
Bishop also led stricter enforcement of Iowa building energy codes. His office received grants totaling $395,000 from the American Recovery and Reinvestment Act of 2009, the Iowa Economic Development Authority, and the U.S. Department of Energy to educate and train engineers and building inspectors on energy code compliance. Stricter enforcement of building energy codes reduces energy use and saves costs.
The International Code Council is a member-focused association dedicated to developing model codes and standards used in the design, build and compliance process to construct safe, sustainable, affordable and resilient structures. It was founded in 2004 and is headquartered in Washington, D.C.
Bishop grew up in Knoxville, Iowa, where his father ran a residential construction contracting company. He said he naturally flocked to Iowa State for engineering, and construction engineering seemed like a perfect fit. "The curriculum has benefited me throughout my career in building codes," Bishop said. "It provided me enough knowledge to not catch me off guard during challenges, which has given me a base to professionally grow."
During his junior and senior years at Iowa State, Bishop inspected buildings for the City of West Des Moines. He continued that for about a year after graduation. From 2005 to 2007 he was a construction manager for Wells Fargo Financial, managing projects throughout the U.S. and Canada.
Bishop has been in his current position since 2007. "One thing I enjoy is working with Iowa legislature to update building codes and law," he said. "It allows me to see and influence industry and regulatory impacts pertaining to my engineering work."