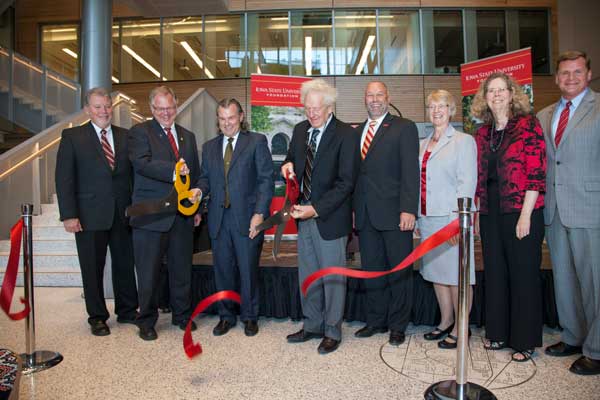 On September 25, a special event took place on the Iowa State campus – the official dedication of Elings Hall and Sukup Hall, the new home for our Department of Agricultural and Biosystems Engineering (ABE). The new facilities provide 100,000+ square feet of research labs, classrooms, student spaces and offices – providing a state-of-the-art learning and innovation environment.
I recall watching the building progress every day as I drove past the construction site located near my parking spot. I participated in tours during various stages to see the work up close. I saw all the moving vehicles and unpacking as our faculty and staff finally moved out of Davidson Hall and other campus locations. It was exciting to watch the transformation as our nation's first agricultural engineering program settled into this new world-class facility. Elings Hall, Sukup Hall and the Biorenewables Research Laboratory, which was dedicated 2010, now make up ISU's Biorenewables Complex.
Elings Hall and Sukup Hall officially opened this past summer, but we waited on the dedication ceremony until all the final touches were complete – furniture in place, computers installed, landscaping mostly completed, the beautiful artwork displayed, lab and high bay spaces working and classes started. This project is a great example of a private-public partnership. The two facilities were built with more than $14 million in privately raised funds and over $60 million in state funds.
Elings Hall is named in honor of Virgil Elings, a 1961 ISU alumnus in mechanical engineering who co-founded Digital Instruments, the first company to make atomic scanning probe microscopy readily available to scientists and engineers. Sukup Hall is named in honor to Sukup Manufacturing and the Sukup family of Sheffield, Iowa. Sukup Manufacturing is the world's largest family-owned manufacturer of grain bins and drying equipment. Charles Sukup, president of the company, earned two degrees in agricultural engineering from ISU. Steven Sukup, vice president and chief financial officer, earned an ISU degree in industrial engineering. Virgil Elings, Sukup Manufacturing and the Sukup family were key donors for this project.
Our agricultural and biosystems engineering program has one of the highest ABE enrollments in the nation, with a record 836 students this fall. The undergraduate and graduate programs are consistently ranked as one of the top four in the country – and this new facility may help increase our rankings.
I know our students, faculty and staff greatly appreciate these new facilities and will continue the long history and proud excellence of the ABE program at Iowa State. You might be interested in watching a short recap of the dedication or glancing at the new ABE program brochure. This was indeed a proud moment and I was honored to part of it!