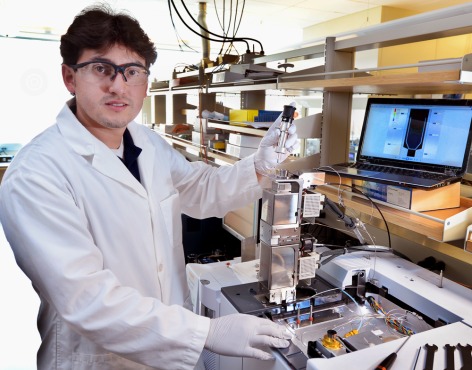 ExxonMobil Corporation is establishing an advanced biofuels research program at Iowa State University.
The ExxonMobil Biofuels Program will initially focus on two research projects with Iowa State. The studies are related to the fast pyrolysis of biomass – rapidly heating biomass (including corn stalks, switchgrass or wood chips) without oxygen to produce liquid bio-oil, which can then be upgraded into transportation fuels.
Iowa State researchers have been studying fast pyrolysis for more than 15 years and have recently upgraded a fast pyrolysis pilot plant at the university's BioCentury Research Farm.
"The ExxonMobil Biofuels Program at Iowa State University focuses on fundamental scientific and engineering questions about the chemical and physical processes that occur during the pyrolysis of biomass," said Robert C. Brown, director of the new research program and an Anson Marston Distinguished Professor in Engineering, the Gary and Donna Hoover Chair in Mechanical Engineering and director of Iowa State's Bioeconomy Institute.
According to ExxonMobil's The Outlook for Energy: A View to 2040, the need for energy will continue to grow as economies expand, living standards rise and the world's population grows by more than 25 percent through 2040. Global demand for energy is projected to rise by about 35 percent from 2010 to 2040.
"Innovation begins with fundamental science and we are looking forward to working with Iowa State to study pyrolysis of biomass," said Vijay Swarup, manager of Corporate Strategic Research at ExxonMobil Research and Engineering Company.  "To meet future energy demand in the most effective and economic way, we believe it is important to explore numerous options.  The challenges are significant, and overcoming them will take a considerable investment of time, resources and scientific expertise."
Steven Leath, Iowa State's president, said, "ExxonMobil's decision to support biofuels studies at Iowa State makes an important statement about the expertise of our researchers and students. Our work at Iowa State is creating great advances in biofuels technologies. This research partnership will help us to do even more to meet the world's energy challenges by putting science and technology to work and exemplifies our motto, 'Science with Practice.'"
The ExxonMobil projects will be led by four researchers: Brown and Terry Meyer, an associate professor of mechanical engineering, will study fundamentals of pyrolysis. Brent Shanks, the Mike and Jean Steffenson Professor of Chemical and Biological Engineering and director of the National Science Foundation Engineering Research Center for Biorenewable Chemicals, and Xianglan Bai, an assistant professor of mechanical engineering, will study processes that influence bio-oil stability and quality.
Brown said the projects are not only important to enhancing the fundamental understanding of technology options that have the potential to contribute to advanced biofuels, they're important to Iowa State students.
"ExxonMobil has asked us to investigate the truly novel problems of biomass pyrolysis, which are exactly the kinds of problems our graduate students need for their dissertation research," he said. "We are going to have some happy students in the labs."
The story first appeared here.