Chemical engineering graduate enjoys teaching science, technology, engineering and math (STEM) in retirement
"I took chemistry, and it clicked," says Mike Morgan, 1974 chemical engineering graduate. At a young age, he thought he would major in electrical engineering, but after disliking physics in high school, he changed his mind. That left him looking for another option when Dave Boylan, the dean of Iowa State's College of Engineering at the time and a friend of Morgan's family, offered to take him to a chemical engineering plant in Clinton, Iowa. Morgan was excited about everything he saw and decided to major in chemical engineering.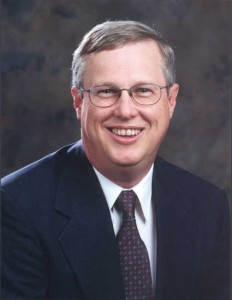 Still up for discussion was where Morgan would attend college. Although he briefly considered other universities, his family history at Iowa State made his decision easy. His father taught civil engineering, grandfather taught education and grandmother taught home economics at the university.
While at Iowa State, Morgan's favorite memory was VEISHEA and being in a fraternity. The two interests intersected when his fraternity's float won first and second place at the VEISHEA parade two years in a row. "My whole Greek experience was the best thing about Iowa State," he says.
After Morgan graduated in 1974, he began working at Conoco (now Conoco-Phillips). He progressed through the ranks, mainly working in refineries throughout the country. Morgan served four years as chemical engineering department head, where he managed 150 engineers. He also spent time at the company's headquarters working in economics and planning and training, and served as a consultant in the United Kingdom, Germany, Malaysia and Venezuela.
Despite these successes, Morgan believes his greatest professional accomplishment with the company was his time spent as process engineering chair. He was leading research efforts of $2 billion in clean fuel research, an area that has a significant impact on society.
"When you hear about all the challenges we have in the world, whether it's climate balance or food situations, I think engineers across the world are going to be part of the solutions," he says.
Morgan's education at Iowa State helped him to be part of many answers, and he credits his management and technical skills to his time in college. "I was able to start work the first day hitting the ground running because of my education."
Making the world a better place is still a focus for Morgan in retirement. He is busy volunteering at the historical society, Pella's regional hospital board of directors and church.
His main volunteer work is STEM outreach at the Pella Community and Pella Community Christian Schools, where he gives students hands-on flying experiences with helium weather balloons (reaching up to 100,000 feet). In the fall, Morgan teaches students about atmospheric sciences and weather balloons along with conducting experiments. The students fly their balloons about three times the following spring and do eight other experiments. Morgan says his work helps students get excited about science and technology while also teaching them about electronics and computer programming.