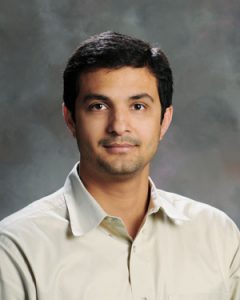 New CCEE associate professor's work improves efficiency and safety of transportation
"One of the most satisfying parts of my career is working on real problems people are facing and seeing that work implemented in the field, making a difference," says Anuj Sharma.
Sharma, who joined Iowa State's Department of Civil, Construction and Environmental Engineering as an associate professor this fall, says most of his research is focused on decision making for better operations as well as safety decisions in the transportation system.
His position is jointly funded by the Iowa Department of Transportation, so he splits his time evenly between teaching and researching.
"Having that close connection with the Iowa DOT means I can have an immediate impact with my research, and that's always been my dream," he says.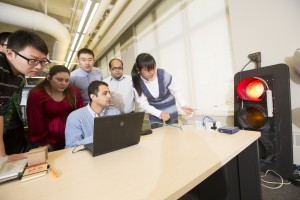 Sharma started his career in academia at the University of Nebraska-Lincoln, where his research program began gaining traction. He managed a federally funded project to assess whether solar- and wind-powered traffic lights could provide a self-sustaining hybrid power source for rural areas, where getting power from the grid is expensive.
"We were looking at economics and safety, which involved vehicle simulator studies to determine if people would be distracted by the small windmills on the traffic lights," he explains.
Sharma also explored active traffic management, including building ramp meters and using variable speed limit signs to better progress traffic.
At Iowa State, he will continue working on projects to improve safety measures on Iowa's roadways.
"We want to develop performance metrics so we can figure out how to best use our budgets to improve the transportation system," Sharma says.
This work involves getting data from different streams, including roadway sensors and videos as well as cell phone providers. The end goal is to improve the experience for drivers by identifying sections of roadways that need more attention, such as bottlenecks on interstates.
He'll also be looking at work zones and how to improve safety, along with vehicle-to-vehicle communication. "We are developing a proposal to implement a testbed in Iowa to evaluate the best ways to connect vehicles in such a way that it improves the efficiency and safety of roads."
On campus, Sharma will be teaching 1.5 courses this year. This fall, he'll be co-teaching a course with Jing Dong, assistant professor of CCEE. Sharma will be instructing students on optimal traffic signal timing. He says this knowledge is especially helpful for students who may someday become city traffic engineers.
Next semester, he'll be teaching geometric design, which is also important part of transportation. "Roadways need to be designed so the geometry of their paths are best aligned for the vehicles using them. As is the case with most of what we do in civil engineering, it all comes back to safety," Sharma says.
Having been in the Midwest since working on his doctorate, Sharma says Iowa State's a great place to continue his career. He received his Ph.D. in civil engineering from Purdue University (2008), his M.S. in transportation from Texas A&M (2004) and his B.S. in civil engineering from the National Institute of Technology Rourkela (2001).
Sharma's entire career has been focused on positioning himself to make a difference. Even the year he took as a programmer analyst after earning his bachelor's was done with his future in mind. "The civil engineering industry would benefit from having more computer science background so we can do analytics in transportation. The position I took as a programmer gave me a chance to fine-tune my skills so I could apply them to civil engineering," he explains.
With advancements being made in transportation, Sharma is excited to see what contributions he will make in the years ahead. "By the time my 3-year-old daughter is driving, I think the way we commute on the roadways will not only be safer, but the overall experience for drivers will be much improved."