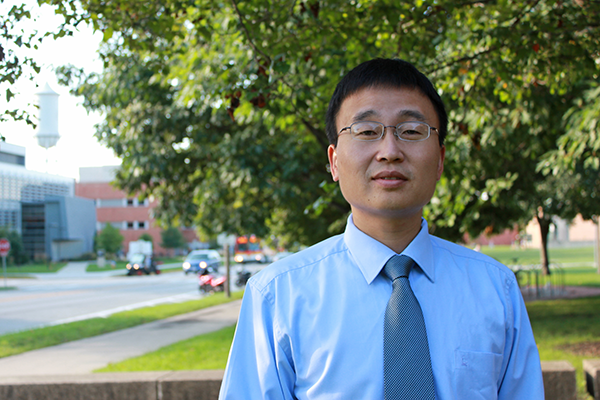 An Chen grew up in Jiangsu Province, China, where much construction and expansion took place. He recognized the abundance of civil engineers, managers, technicians, and other labor who worked together to make urban construction possible.
Chen, a new assistant professor of civil, construction and environmental engineering (CCEE) at Iowa State University, built upon these experiences at Dalian University of Technology in northeast China. There he earned a bachelor's degree and a master's degree in civil engineering.
While exploring graduate research, Chen wanted to do something different with structural engineering. He focused on environmentally friendly and energy-efficient structures. After earning his master's degree, Chen pursued these interests in a West Virginia University doctoral program. In 2004 he earned his doctorate and produced a dissertation on the strength evaluation of honeycomb fiber-reinforced polymer sandwich panels with sinusoidal core geometry.
Chen is a Professional Engineer and a Leadership in Energy and Environmental Design Accredited Professional (LEED AP) accredited by the U.S. Green Building Council. For four years, Chen worked in industry in New York City, where he managed building and green building design using steel, concrete, masonry and timber materials. He returned to West Virginia University in 2008 to conduct research. He then worked at the University of Idaho as an assistant professor for three years before beginning his Iowa State appointment in July 2014.
Chen said that gaining industry experience provided him important context for his current research: 1) energy efficiency in buildings, 2) reusing waste materials in buildings and 3) rehabilitating deteriorated reinforced concrete bridges using fiber-reinforced polymers. Chen's goal is to keep structures intact while prolonging their uses in environmentally friendly ways, saving projects time and money. "I have enjoyed applying research topics to real solutions and real clients," Chen said. "This experience allows me to relate with research partners and students on a practical level."