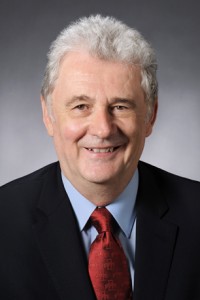 In an effort to streamline research and economic development units at the university, the Center for Nondestructive Evaluation (CNDE) is one of three centers that will now report directly to the College of Engineering.
Originally founded with the U.S. Department of Energy's Ames Laboratory, CNDE moved to the Institute for Physical Research and Technology (IPRT). Now, under recent reorganization, it is reporting to CoE Dean Sarah Rajala, and collaborators have come together from the Departments of Materials Science and Engineering, Aerospace, Mechanical, and Electrical Engineering.
CNDE offers a wealth of opportunities to its faculty and students, including interdisciplinary research, the chance to build more partnerships for research and training for students in the field.
The center appeals to a broad spectrum of disciplines because its focus is on getting to the root of problem solving—ensuring products do not fail and predicting structural performance, measuring properties to gauge how long a product or material will last. CNDE produces measurements and data processing can be applied to a wide range of uses.
CNDE has 19 corporate and federal sponsors. It operates under the National Science Foundation's Industry/University Cooperative Research Center (I/UCRC), which has existed for 29 years. It is one of the oldest centers still in the program and one of the first to be created.
The founding director of CNDE was Don Thompson. Bruce Thompson (no relation) was the second director, and now Leonard Bond, who is also a professor of aerospace and mechanical engineering, is the current director.
Understanding the work
Consisting of 12 professional researchers from varying disciplines and about 50 students—interns, graduate students and postdocs—those who work with the center are heavily invested in research activities. Additionally, 10 to 20 faculty members are involved in various ways.
CNDE is the only center in the country that covers all aspects of nondestructive evaluation, including experimental work, computer modeling and data processing.
"We can analyze before we experiment," said Bond. "Then you work with the person in the application, whether that be John Deere, Boeing or whoever."
Researchers take parts or components and look at their issues related to material quality and signatures. They then run diagnostics, which involves getting the tools that allow them to predict the remaining safe life for structures, components and systems.
"All the data originally being developed ties into fracture mechanics: people do finite element stress analysis to know if there are any defects. Then using fracture mechanics, they work out the significance of the defects and tie it all together," Bond explained.
"The next step is to put together the loading information, the stress information, the defect information and the material information to hopefully predict what your remaining safe life will be so things don't break."
The center has done several large projects over the years, including working on a turbine that blew out of a plane and landed in a cornfield in Sioux City and reducing the number of uncontained engine failures in the Engine Titanium Consortium to about 20 percent. It has also worked for the Federal Aviation Administration, Air Force and other federal entities, and has seen an increase in requests from commercial businesses such as Boeing and Alcoa.
Looking back and moving forward
Originally funded by DARPA and the Air Force, CNDE operated through the Rockwell Science Center in California. After six years and the end of the DARPA work, it was agreed that the center should move from a defense contractor to an academic institution.
Don Thompson, having grown up in Clear Lake, Iowa, was familiar with central Iowa, and he knew the people in Ames Lab. The materials expertise of those researchers and scientists helped determine that Iowa State was the appropriate location.
Now in the College of Engineering, the leaders at CNDE—and the college itself—hope to start more interdisciplinary research to grow the number of students and faculty involved in the core program and the proprietary and sponsored research.
"We need faculty who are interested in doing work that is of interest to the sponsors and who can work within the time and budget set by the sponsors," said Bond.
Another goal is to increase student involvement with "490 projects" and with graduate students. Several fellowships and scholarships offered through CNDE will help engage students in the program.
Working at CNDE is a good experience for students preparing to enter the workforce. The center's alumni have gone on to work at major companies such as Boeing and Pratt & Whitney.
Including both research and development as well as contract work, the center does about 25 projects throughout the year that are either proprietary or for their sponsors.
Moving into larger endeavors, CNDE will participate as part of a large team that recently was awarded a $3 billion project spread throughout five years with the Defense Technical Information Centers (DTIC). "We've really got some larger projects and big developments coming up," said Bond.
"If we are going to grow—especially given the number of people retiring—it is an opportunity to reinvigorate and bring in some younger, mid-career faculty. Right now, there are more opportunities than we have faculty."