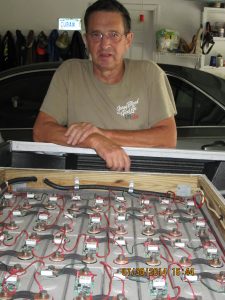 A little over fifty years after graduating from Iowa State, many memories are still close to the surface for John Lanman, a 1963 graduate in industrial engineering.
"I think of myself as being extremely interested in data and information, I remember going to the library at ISU and being amazed at the periodical room," Lanman said. "Being exposed to the masses of data and information out there in the world really sticks out as a memory that comes to mind."
Lanman described his upbringing in Van Buren County, Iowa, as small and rural, but his future career would lead to growth and opportunities across the nation.
With numerous job offers after graduation, Lanman, chose to begin his career at Maytag in Newton, Iowa, as an industrial engineer. After a few years he moved on to Donaldson Company as an industrial engineering manager.
Ultimately, Lanman returned to Green Giant where he had completed an internship during his time at Iowa State. He was hired as a standards and cost engineer in the industrial engineering department and he later moved to Maryland. As companies began to conglomerate, Lanman became an industrial engineer at a newly purchased meat processing plant owned by Green Giant in Florida.
During his time at the Florida plant, Lanman fell in love with the meat industry.  When the plant was sold he was hired to become a production superintendent at a plant in Newberry, South Carolina. He became a maintenance manager at the plant instead. Lanman claimed that he believes his broad skill set from Iowa State worked to his benefit in attaining this position.
A conversation with the plant manager on the floor of the plant one day led to his position as an industrial engineering manager, a department which he started and grew through the next several years. Ownership of the plant changed several times, and it is now owned by Kraft Foods Inc. and is one of Kraft's largest plants in terms of numbers of employees.
Looking back on his career, Lanman still stresses the importance of the lessons he learned at Iowa State, citing a senior project as an example.
"We were given an assignment to build a plant and had to choose a location, create a layout, determine required equipment, and so on. My skills of collecting data to resolve a problem or improve something probably mostly came from my time at Iowa State," he said.
Chuckling, he added that he also learned the value of "checking everything you did twice, three times and then maybe checking it again."
Lanman retired in 1996 but has continued working with the plant for about 20 hours a week, mainly as a process flow expert. Some of his grandchildren are following in his footsteps, pursuing engineering degrees at schools across the nation.
The importance of education is significant to Lanman, and he believes Iowa State is a great place to pursue a career in engineering.
"I feel like the mission of Iowa State, and other engineering schools, is vital to the survival of the human race," Lanman said. "Being a land grant university and attached to agriculture is important. It's amazing that we're basically able to feed the world."