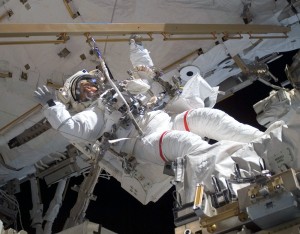 AMES, Iowa – The week's objectives include scuba certification, wilderness survival, skydiving, flight simulation and a virtual visit to the International Space Station.
Those objectives are all part of an Iowa State University prototype workshop designed to give six students a taste of the operational aspects of spaceflight training and Iowa State educators a first look at preparing students for new employment opportunities in commercial spaceflight.
"We turn out excellent graduates at Iowa State in aerospace engineering, but they don't know how to think like an astronaut," said Clayton Anderson, who retired from NASA in 2013 after two trips to the International Space Station, including a five-month tour of duty and six spacewalks. Anderson earned a master's degree in aerospace engineering from Iowa State in 1983.
Anderson, now an Iowa State distinguished faculty fellow in aerospace engineering, has worked with Iowa State's department of aerospace engineering to develop the prototype workshop in spaceflight operations.
The workshop will run seven days, 8 a.m. to 7 p.m., August 4-10. Six undergraduate students have been accepted (from 29 applicants) into the non-credit workshop, five from Iowa State and one from Tuskegee University in Alabama. Four of the students are men, two are women.
Anderson said the workshop will expose students to training programs similar to ones he completed as a NASA astronaut. Scuba diving, for example, will teach students how to work in a hazardous environment, while wilderness survival will teach mission planning, expeditionary behavior and teamwork.
Anderson also wants students to learn lessons in operational thinking. How, for example, could the space industry send tourists to space without requiring them to complete three years of spaceflight training? Or, how could engineers design controls and user interfaces so they're intuitive and easy to learn for a spacefaring neophyte?
Richard Wlezien, a professor and Iowa State's Vance and Arlene Coffman Endowed Department Chair in Aerospace Engineering, said he's hoping this first workshop can eventually grow into a minor at the university.
Spaceflight, after all, is changing. Private companies are building and launching rockets. They're going to need people trained in spaceflight operations.
"We're at the beginning of commercial spaceflight," Wlezien said. "The next spacecraft ferrying cargo and astronauts to the International Space Station will be built, owned and operated by companies. Eventually, it won't be the responsibility of the federal government to train astronauts to fly these vehicles. There will have to be another path.
"We want to start thinking about educating people to be astronauts."
Wlezien and Anderson said the idea for the spaceflight workshop came from a trip to the basement of Howe Hall, where there's a water tank that's 20 feet wide and 20 feet deep. It was originally designed for nondestructive testing of materials.
With a bit of imagination, the two saw the tank as a possible underwater training facility for would-be astronauts. Before long, Anderson was working with Tor Finseth, a graduate student in aerospace engineering and an aspiring astronaut, to develop a prototype program.
They've planned seven full days of learning, including lessons in the emerging spaceflight industry, decision analysis, leadership, spacecraft subsystems, space physiology and space suits. Plus, there are the lessons in scuba diving, wilderness survival, skydiving, flight simulation and virtual spaceflight.
Anderson already has some ideas to grow the program if it is offered again next summer.
"It's exciting to see the possibilities," he said. "But we want to walk before we run – although I'm ready to run."
This story first appeared here: http://www.news.iastate.edu/news/2014/08/04/spaceflightops