A graduate student and a retired astronaut have teamed up to develop a space-training program at Iowa State University that may usher a new age of space exploration.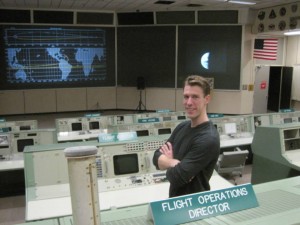 When he was growing up, Tor Finseth dreamed of the chance "to boldly go where no one has ever gone before," just like in the popular TV series "Star Trek."
Now Finseth – who is a graduate research assistant in aerospace engineering at Iowa State – is mentoring under retired astronaut Clayton Anderson and turning his childhood aspiration into a reality.
"I've always loved space. In high school, I read astronomy textbooks for fun, but I never dreamed this is where my path would lead," he said in an article written by the Department of Aerospace Engineering.
The stars begin to align
Finseth led an active academic career during his undergraduate studies at Iowa State. He was busy designing transportation vehicles in class projects and serving on the Government of the Student Body.
During his senior year, he was elected to serve as ex-officio member on the Ames City Council representing Iowa State – a position that would lead him to the opportunity of a lifetime.
That occasion arose in March 2012 when U.S. Vice President Joe Biden visited Iowa State campus. Finseth, who was still the ex-officio member, was invited to be a VIP at the speech along with fellow city council members.
After the event, he walked up to the vice president – with résumé in hand – and asked for a position on his staff.
"The vice president was really perceptive, really friendly about it," Finseth said. "He asked me a bunch of questions about my résumé and then referred me to his staff."
Finseth graduated with his bachelor's in aerospace engineering in May 2012. About eight months later, he received a call that said, "Be in D.C. in two weeks, we're hiring you."
White House internship unexpectedly points to space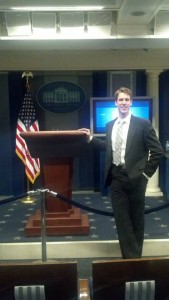 At the nation's capitol, Finseth worked in the Presidential Personnel Office of the White House, which reviews political appointments in the federal government.
"My job was to do background checks and vet some of the applicants," he said. He also gave tours of the White House to congressional and political appointed families.
One day, his senior advisor – who had been a White House liaison for NASA – pulled him into his office for a talk.
Finseth immediately wondered, "Am I in trouble, did I do something wrong?"
Instead, his advisor said, "You should be an astronaut. Have you ever thought about it?"
Finseth and his advisor then drew up a plan to make that happen. The first thing he needed to do was get a graduate degree. His eyes quickly turned toward his alma mater for graduate school.
He made a series of phone calls to Iowa State and learned that retired astronaut Clayton Anderson was joining Iowa State's faculty in September 2013. And to top things off, Richard Wlezien – chair of the Department of Aerospace Engineering – wanted Finseth to mentor under Anderson.
"Iowa State had all of the opportunities I needed to come back for graduate school," Finseth said.
Space-training for students
Since fall of 2013, Finseth has been on campus taking courses and even helping develop some.
He and Anderson have been working on a way to teach students everything it takes to be an astronaut. The program will focus on leadership, communication and team building skills, and living in harsh environments.
Finseth says it will include live activities involving scuba diving, skydiving and wilderness survival training.
As a trial run, Anderson and Finseth launched a seven-day workshop during the first week of August that brought in a total of six students from Tuskegee University and Iowa State to test the program.
"When he brought me onboard, Clay's idea was to create a course that would prepare students – regardless of their field of study – for the spaceflight industry," Finseth said.
Sharing Anderson's idea, Finseth says he wants to reignite the national interest in space – first by teaching students what it takes to be an astronaut.
"I'm passionate about space exploration, but you could say that my real vision is…well, I want Starfleet to happen," he said.