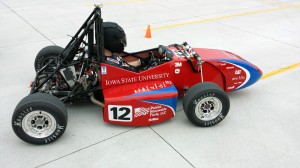 Greg Bott, finishing a series of 60 mph acceleration runs in a campus parking lot, pulled over to his teammates with a whoop and a double fist pump.
"You like?" asked Derek Peters, the technical director of this year's Iowa State Formula SAE Team.
"I like," said Bott, a senior studying mechanical engineering from Clinton.
And then he and his teammates did a quick debrief of the straight-line runs: Bott confessed to starting a few runs in second gear, he noted the clutch slips on the start line, teammates found some uneven tire wear and everybody seemed satisfied with 4.5 to 4.6 seconds over 75 meters.
All that data gathering and sharing is good news for the team as it approaches its biggest race of the year, Formula SAE Lincoln, June 18-21 in Lincoln, Nebraska. The competition for student-designed and student-built mini open-wheel racing cars is sponsored by SAE International, formerly the Society of Automotive Engineers.
The team did a warm-up competition last month in Canada. And there were a few bumps and chicanes: a failed fuel pump, the breather on the valve cover popped off and the engine started spitting oil, and the chain guard came loose and caused the chain to slip off the drivetrain.
But all of those problems are fixed. And with each test run, the team is finding and fixing other potential breakdowns.
"We're driving enough so that everything that's going to break, will break," said Bott, who directed engine and wiring work for the team. "So we know what we need to work on."
Peters, a senior from Hartley who's studying mechanical engineering, said the team's latest design is lighter than previous versions and it's much easier to build, repair and maintain.
The exhaust, for example, runs through the car's right sidepod instead of the back of the engine. That opens up the engine compartment for easier repairs and keeps the hot pipes away from student-engineers' hands.
Peters also pointed out the drivetrain's hollow half shafts, replacing solid parts the team had used. That one switch shaved 4 pounds from the car's weight.
Considering all the testing and improvements, Peters said he's expecting a strong car and performance when the team rolls up to the competition's various tests, presentations and races.
"We should be really good, better than last year," he said, referring to a good run that came to a halt with electrical problems in the contest's nearly14-mile endurance race. That problem in the competition's biggest event dropped the team's overall finish to 40th of 62 scored teams.
Alex Nowysz, a senior from Adel who's studying mechanical engineering and is an experienced kart racer, is also expecting a better finish this year.
"I think we'll do well," he said. "We'll have all of this testing to help the car go faster."
That has him looking forward to taking the wheel of the formula racer.
"Oh yeah," he said, "it's really fun."
The story first appeared here.