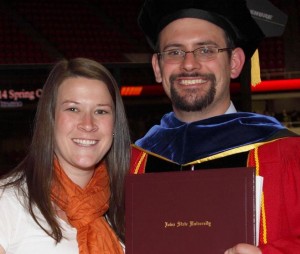 Joseph Petefish, a chemical engineer from Chippewa Falls, Wisconsin, chose to pursue his Ph.D. at Iowa State University for the world of opportunities that comes along with a doctorate degree in his field.
The Ph.D. will come in handy if Petefish ever decides to teach, but for now, he wants to make sure he has the technical credentials to take any position his career might present to him.
Being halfway between his own hometown and his wife's hometown of Manhattan, Kansas, Iowa State was a good fit for him geographically after completing his undergrad at the University of Minnesota.  He was also intrigued with the work being done here, as well as the opportunity to work with his major professor, Andrew Hillier.
"I really like the Iowa State faculty, especially in the chemical engineering department," says Petefish, who has also worked with Ian Schneider, assistant professor of chemical and biological engineering, and Eric Cochran, associate professor of chemical and biological engineering. "We've got lots of smart people who are also relatable human beings. You might be surprised at how many places can't say that."
He has worked more than four years on a research team with Andrew Hillier, professor and chair of chemical and biological engineering. His half of the group made optical sensors based on surface plasmon resonance, while the group's other work focused on interesting applications of electrochemistry in catalysis and nanotechnology.
After defending his thesis on June 3, Petefish will move to Flagstaff, Arizona, with his wife Abby, and children Teddy and Annie, to work for W.L. Gore & Associates. There he will work in the Medical Products Division.
Gore's medical devices are made, in part, from expanded PTFE, which Petefish describes as a polymer that can be processed into microstructures that, when combined with the chemical properties of the material, are fit for use in several medical applications.
Chemical engineering is necessary for just about every step of the process in making new products, which is Petefish's favorite part of being an engineer. "I like making new stuff.  It's using what you know to make new materials that can go into useful products. That's a rewarding job in itself, but when the products you make directly save lives, that's pretty cool."