A team of eight sixth and seventh graders is running for first place and $20,000 in the FIRST LEGO League Global Innovation Award competition.
Iowa County 4-H team Robotic Raiders of Williamsburg, Iowa, designed an educational board game, called "Cyclone Survivors," that teaches kids about tornadoes and tornado safety.
They made it for the 2014 FIRST® LEGO® League (FLL) competitions – the challenge was "Nature's Fury".
"We wanted to do something about tornadoes because they happen in Iowa," said Eli Berger, second-year member of the team. "We thought that kids might learn better by playing a board game."
The game essentially quizzes players about tornadoes using challenge cards that, if answered correctly, give them LEGO pieces to build an emergency kit. The player with the most pieces at the end wins.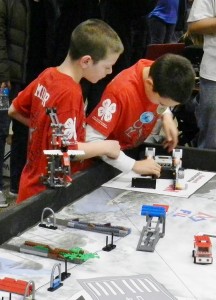 The Robotic Raiders also entered a SimpleBot in the FLL competitions.
Shelley Berger, team mentor and Eli's mother, explains that team members were divided into four pairs to design and program a SimpleBot to carry out specific tasks. For one mission, Eli and his partner Mitchell Miner configured the robot for a supply truck and ambulance combo as shown in the photo.
Eli built an attachment onto the SimpleBot that corralled the supply truck and then pushed it and pulled the ambulance to a specified zone, and Mitchell did the SimpleBot programming.
During the FLL competition, the team scored points for the items in the supply truck and for getting both vehicles to the specified zone.
"They make a good team because they both did what they enjoy – no squabbling," Shelley said.
Teamwork and critical thinking – fostered through 4-H and the FLL competitions – are two fundamental engineering principles. Taking them to heart, Eli says he wants to be an engineer when he grows up.
"I want to create or invent things that help people every day," he said. "I want to make the world a better place."
Even in the sixth grade, Eli may be well on his way to realizing his goal. He has an older brother who studied aerospace engineering at Iowa State University, and Shelley says she would like to someday take the Robotic Raiders on a visit to tour Iowa State's engineering facilities.
For now, the team is flying out to Alexandria, Virginia, to receive their Global Innovation award on June 3.