Iowa State's off-road racers already have a big win to their credit.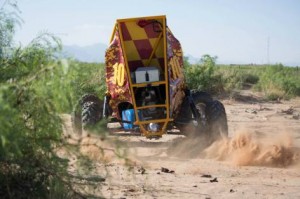 Last month, competing over a dusty course at the University of Texas at El Paso, the Baja team bounced to a frame-bending-but-not-breaking win in the four-hour endurance race. That helped the team move up to seventh overall (among 96 registered teams from as far away as Egypt, India and South Korea).
Andrew Tauke, a senior from De Soto majoring in industrial technology and the team's technical director, said this year's team is making a major commitment to a big and successful season.
For the first time, the team is racing all three off-road events sponsored by SAE International, formerly the Society of Automotive Engineers. The events feature mini Baja racers designed and built by teams of college students. And this year's calendar, in addition to last month's race in Texas, features events in Kansas (May 22-25) and Illinois (June 4-7).
"We decided we weren't going to be mediocre," Tauke said. "We wanted to win."
So, a few years back, the team entered two races instead of one. Last year the team's results started trending up, going from 37th after rear suspension problems to 10th after repairs.
"Now the goal is to make it to all three races and be that competitive team," Tauke said.
There's evidence that's happening: There are the two big plaques from Texas and Tauke overheard a spectator say it was no surprise Iowa State was leading the Texas endurance race.
So what makes this year's racer a better machine?
Tauke said the team built on the top-10 success of last year's car, keeping what worked and redesigning what didn't. The biggest change was a thicker 1020 steel frame with better shock mounts that eliminated the weight of reinforcing tubes and welds.
And Joel Newton, a May graduate from West Des Moines who studied mechanical engineering, pointed to the compact transmission bolted to the back of the 10-horsepower Briggs & Stratton engine.
"Our transmission is a notch above the rest," he said. "It's so compact. We go to competitions and we see teams with cases three or four times bigger. To get it to something this small and light is pretty remarkable."
Then Tauke and Newton explained how a new ventilation system is winning design points and cooling the car's drivetrain.
But team members aren't thinking top finishes in dusty Texas means top finishes in the muddy Midwest. They'll make repairs and improvements until they roll up to the next starting line.
"I just like to see improvement," Newton said. "As an engineer, that's what we try to do. An engineer wants to see efficiencies. We don't live by the rule, 'If it ain't broke don't fix it.' There's always something that can be improved."
The story first appeared here.