The biological systems engineering (BSE) program at Iowa State University teaches students how to use life sciences and engineering principles together to solve complex problems, such as those related to food security and next generation biofuels.
It's a diverse program that lets students tailor their educational experiences to their interests through an option structure that includes biorenewable resources engineering; bioenvironmental engineering; food engineering; or pre-professional and pre-graduate.
Raj Raman, professor of biosystems engineering, says more than 50 percent of BSE students are in the biorenewable resources engineering option, which he added may "reflect the tremendous societal interest in this area."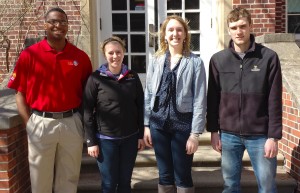 Bailley Richardson, a senior in biosystems engineering, said she chose the biorenewable option because it applies a multidisciplinary approach for designing and developing biofuels. She added she is particularly interested in biorenewables because she lived on a farm in rural Iowa where her parents produced corn and soybeans for biofuel production.
Christian Miller, a senior in biosystems engineering, also supports Raman's idea. "I chose biosystems engineering because I like the focus of biology and the emerging biofuels economy," Miller said. He explained that he is currently assessing what type of biofuel production, such as algal, ethanol or biodiesel, he wants to focus on after graduation.
Biosystems engineers approach engineering design from a life sciences perspective, meaning that they appreciate the complexity of biological systems and can develop solutions that accommodate and anticipate the adaptability of biosystems.
The BSE curriculum includes more bioscience-relevant courses and integrates more biology into the associated engineering courses than the agricultural engineering program from which it grew.
This spring, seventeen students enrolled in a core class – BSE 380 Principles of Biosystems Engineering – that introduces them to the fundamentals of biosystems engineering.
Raman, who is a guest lecturer for BSE 380, said the class emphasizes the quantification of engineering processes ranging from plant growth to animal heat loss. His three-weeks section focuses on an engineering practice called bioprocessing. Bioprocessing uses microbes, such as yeast, or parts of microbes, called enzymes, to transform plant biomass into a higher value material, such as transportation fuels. Those microorganisms or enzymes are stored in bioreactors that facilitate conditions where the reactions can take place.
"In BSE 380, I've learned how bioreactors work and how chemistry and biology come together in a process," said Hillary Kletscher, senior in biosystems engineering. "I'm really interested in renewable energy and taking feedstocks and processing them into energy. I'm also interested in grain processing to make sure that we get the most out of our crops."
Andrew Towey, who is also taking the class, agreed.
"My favorite material we've covered thus far has been about bioreactors and microbial growth," said Towey, a junior in biosystems engineering.
Kletscher adds that classes like BSE 380 show students just how many different options they have within the program.
The biosystems degree program would not be available for students today were it not for the efforts made from past agricultural and biosystems engineering (ABE) faculty.
In 2001, ABE faculty members Tom Richard and William Batchelor led the initial planning efforts for the biosystems program. The process stalled in 2004 because Richard and Batchelor left to pursue career opportunities at other institutions.
At the request of the department chair, when Raman was hired in 2006, he revived and revised the proposal, and with a lot of work from colleagues in the ABE Engineering Curriculum Committee, the program received final approval by the Board of Regents in the summer of 2008. The program also received its inaugural ABET accreditation – crucial to allowing program graduates to eventually become licensed professional engineers – in 2013.
The first students began enrolling in BSE in the fall 2008. The program has since grown from approximately 20 students in 2009, to 40 in 2010, 60 in 2011, and stabilized at 80 in 2012. Additionally, Raman said the gender diversity is high "compared to the department's agricultural engineering degree program and most other engineering programs across the country. Approximately 50 percent are women."
He continued, saying "taking on the grand-challenges of this century is going to require us to mobilize as many bright young minds as possible – we do ourselves and society a disservice if we are only attracting a part of the talent pool out there."