From the LEGO key chains on his backpack to his involvement and dedication to the FIRST LEGO League, it's clear that Shaun VanWeelden—a junior from Pella, Iowa—has a passion for the little plastic bricks that so often introduce young children to engineering. Last year, he found a way to combine that passion with his love for computer programming, and the result was a fully functional website that turns photos into blueprints for LEGO mosaics.
VanWeelden knew he wanted to attend Iowa State University when he was in fifth grade. He enrolled in mechanical engineering because he was interested in robotics, but the first programming class interested him so much that he thought a different major might be a better fit.
"I really liked the programming class, so I switched to software engineering the following year," said VanWeelden. "I've been loving it ever since."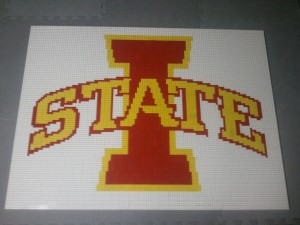 The idea for VanWeelden's mosaic blueprint site, BricKIT, came when he was in high school and trying to find similar websites that provided instructions to create a 2D mosaic from an image. "There were a couple that came close to what I was looking for, but none gave the whole parts list and instruction manual for free, so I decided I would create that myself," he said.
As part of Startup Weekend Des Moines last fall, VanWeelden created BricKIT in just one weekend. The event gives about 45 people the chance to give a pitch with their business idea, and VanWeelden was one of seven to be developed.
He worked with a team of six to plan and code for 48 hours straight, creating the entire website and business plan. The team tied for first place, and VanWeelden continues upkeep and development on his own.
Though the instructions are free, he says his plan to make a profit on BricKIT in the future is to sell the LEGO pieces to make the mosaic. He doesn't have the time or space to keep inventory now, but VanWeelden does have the experience: he used to have an online LEGO store that bought and sold the pieces when he was in high school.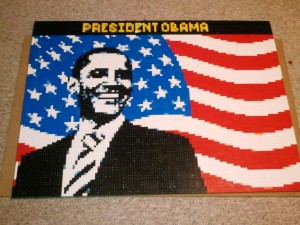 VanWeelden keeps himself occupied with many classes and campus clubs. He's vice president of Outreach for the Engineering Student Council, a member of the Computer Science and Software Engineering Club, a partner for the Society of International Engineers, the chair of Iowa State's FIRST LEGO League, and he has been on the planning committees for the Engineering Career Fair and Engineers' Week. But lately he's shifting his focus to paying jobs.
Currently at the Iowa State University Research Park, VanWeelden has been working for Thinix, a company that does web development and applications.
He's also gaining experience through internships. Last spring he worked at MathWorks in Boston in the graphics engineering department, where he made sure future versions of code would be compatible with the existing code. Last summer, VanWeelden joined the IT department at Union Pacific Railroad, working on a lock monitoring system for rail cars.
VanWeelden has already lined up his internship for the coming summer: he'll travel to Seattle to work for Boeing. But looking past college to his career is a little more open. Right now, he's deciding whether to stay in the Midwest or move to the West Coast.
"If I can get a really nice job or start my own business here in Iowa, I'll definitely do that. But otherwise I'll probably go to California or somewhere on the West Coast," he said. "I'm still trying to figure out what to do with my life afterwards."