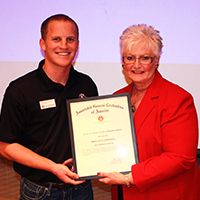 The Associated General Contractors of America (AGC) Iowa State University chapter recently received its ninth first place award in the AGC Outstanding Student Chapter Contest.
The first place award recognizes the U.S. student chapter that best undertakes a project that benefits the local community – whether it's the school campus, a community organization or private person – and has a significant impact. A $1,500 cash award was rewarded to the group. Past AGC of America President Kris Young presented the chapter its award certificate during a Dec. 4, 2013, chapter meeting on campus.
The 2013 award notes the Iowa State student group's rebuilding work in Jonesborough, Tenn., during Thanksgiving Break 2012 and Spring Break 2013. There, 67 Iowa State construction engineering students helped build seven homes while the Tennessee community recovered from major flood damage. Tasks included framing, sheathing, siding and roofing single-family homes. The rebuilding effort netted the group a combined 3,492 service hours.
Read the local Tennessee news coverage of their efforts.
Andrew Hodge, Spring 2013 construction engineering graduate, served as vice president of the AGC Iowa State chapter during the 2012-2013 chapter. He arranged the 2012-2013 Tennessee trip. Hodge says the vice president is in charge of finding the project, organizing transportation, arranging housing, and setting up food for student volunteers; however, all AGC chapter cabinet members who attended shared leadership and organization throughout the rebuilding experience.
Hodge was hired by JE Dunn Construction (Kansas City, Mo.) this past September as a field engineer.
The Appalachia Service Project, a volunteer home repair ministry based out of Johnson City, Tenn., prepared students well for the rebuilding experience. "This organization handles large amounts of volunteers well, and so when we arrived, we were able to build right away," Hodge said.
The Iowa State group was ultimately thrilled with putting seven families into homes again. "I feel that our group really connected with each of the homeowners," Hodge said. "Building these relationships really hit home for our volunteers."
The AGC Iowa State chapter has an exceptional reputation of community service. In the last few years, students have spent academic breaks rebuilding communities such as Moore, Okla., Joplin, Mo., Cedar Rapids, Iowa, and the Mississippi Gulf Coast. "You know that Iowa State construction engineering students are taught to be servant leaders when 40 or more students go over their college breaks to wake up early, work all day in rain or shine, and put others before themselves," said Hannah Pechmann, Spring 2013 construction engineering graduate and AGC Iowa State chapter president during the 2012-2013 academic year.
Pechmann was hired as a project engineer this past July at JE Dunn Construction's Mission Critical Group in Kansas City, Mo.
Associated General Contractors Iowa State chapter is a student organization designed for Iowa State construction engineering students to get involved, perform extensive community service, promote camaraderie amongst classmates, and enhance industry knowledge and interaction. Construction engineering senior Jace Christensen currently serves as chapter president. Larry Cormicle, senior lecturer and Glenn H. DeStigter Scholar in Construction Engineering, advises the group. Visit the group's website for more information.