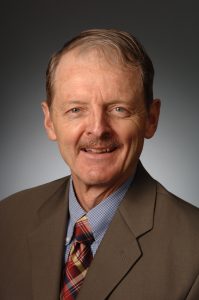 Thomas Glanville, professor of agricultural and biosystems engineering and self-declared environmentalist, is wrapping up the final semester in his long run at Iowa State, which began back in the 1960s when he began his education here.
Glanville earned his bachelor's degree in engineering operations from Iowa State in 1972, worked at the Caterpillar Tractor Company in Peoria, Ill., for a year and followed up with his master's in civil engineering in 1975.
He worked in industry for two years until a job with the ISU Extension and Outreach program became available. The job pertained to water quality issues in Iowa, a subject he had become interested in while working at Caterpillar. While he was working here, Glanville decided to get his Ph.D., which he completed in 1987.
Since beginning his tenure at Iowa State, Glanville has taken on the usual teaching and research responsibilities, but he's also had significant extension and outreach responsibilities, which is one of his favorite aspects of the job.
"I've tried to merge research and outreach," he says. "I've tried to make my research very easily accessible—mostly on the web—and here at ABE, we're proud of our leadership in terms of getting our information out to the public."
Most of Glanville's work is environmental, focusing on water quality and supply issues—both public and private—in Iowa. Recently, his work has shifted toward waste management issues and farm biosecurity when dealing with livestock waste.
Glanville's research has been sought out by several state, federal and even foreign agencies, including the Iowa Department of Natural Resources, the U.S. Department of Agriculture, the Canadian Food Inspection Agency and the National Institute of Animal Science in South Korea.
The project with South Korea looks at emergency livestock disposal issues, and it is one Glanville will continue working on—to some extent—after he retires.
After many years of work, Glanville is looking forward to joining his wife in retirement, catching up on all of his favorite hobbies and even starting some new activities.
Photography is on the top of his list since gaining an interest for it through his extension and outreach activities. "You'll find my website's pretty heavily endowed with photography as a way to show rather than just tell," he explains. Glanville says he's interested in nature photography and possibly publishing his photos in the future.
He also plans to start a patch of prairie grass and flowers on an acre of his property. "I think they're very interesting, and I know there's a need for environments that favor pollinators like bees, and they really like prairie flowers and prairie grasses," says Glanville.
Along with that, he's been looking into beekeeping as a way to help increase pollination. He says the environmental impact of pollinators is hard for many people to grasp and is something that interests him.
Calling himself a conservative environmentalist, engineering has been a good fit for Glanville. "I really enjoy seeing engineering technology applied to help with environmental improvements."
Application is the major component in all areas of engineering, but he takes it one step further in his classes. "My favorite part of teaching is convincing students they have to not only be able to apply technology, but they have to be able to communicate effectively.
"It doesn't matter how good your technical skills are if you cannot convey what you did and what the results are in a meaningful way," he says. Glanville likes to "pester" his students with questions to give them as much real-world experience as possible before sending them to industry.
Glanville says leaving his colleagues and extension activities will probably be the most difficult transition to retirement, saying the ABE faculty gets along well and has made his time here very enjoyable.
He'll also miss getting calls and emails asking for help and technical information, which he says "satisfies his need to be technically useful."
Despite all the good experiences and memories he's leaving behind, Glanville is ready to start a new chapter.
"I would say after 36-plus years, you start to say, 'Well, there are a lot of other things I'd like to mess with,' and I just want to free some time up to do that."