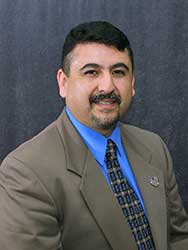 After earning his Ph.D. this past August, Eliseo De León began his first year teaching at Iowa State University as a lecturer of materials science and engineering.
De León earned a bachelor's in chemistry and a bachelor's in theater at the University of California, Davis in 1994. He started his Ph.D. program in materials science and engineering at Washington State University.
He researched polymer fiber optics (optical waveguides) to increase the amount of signal that can travel down a single fiber, which can increase network speed and strength.
Shortly after starting his Ph.D. at WSU, De León's wife accepted a position at Iowa State to teach as a professor in food science and human nutrition, and they moved from the Washington state to the Midwest. While his wife taught classes, De León continued his Ph.D. at Iowa State.
De León said he couldn't find anyone researching fiber optics when he arrived on campus in 2009, but he met Michael Kessler, professor of materials science and engineering at ISU, who was researching structural capacitors for NASA.
Structural capacitors are energy storage devices that store electrical energy and also bear a mechanical load, meaning "you can set something on it," he said.
De León transferred into Kessler's research study, and he began to research methods to reduce the weight of structural capacitors that he said are traditionally made from ceramics, which makes them heavy.
He said using polymers to build the structural capacitors instead of ceramics makes them about five times lighter.
Over the course of his research, De León was awarded a NASA Fellowship in 2012-2013 through the Iowa Space Grant Consortium program, a fellowship distributed by NASA.
The grant helped De León and Kessler continue researching new materials and processing techniques for structural capacitor applications.
Now, De León teaches classes, which he said is an underlying motivation for staying in Iowa. He taught high school physics and calculus in San Jose, California, in the late '90s, and he knew he always wanted to get back to teaching.
"I really enjoy working with students and sharing my knowledge with them," he added.
As the instructor for MAT E 453: Physical and Mechanical Properties of Polymers, De León says the course uses a variety of analytical instruments to determine the physical and chemical properties of a variety of polymers, giving the students plenty of opportunities to get their "hands dirty" working in the lab.
"I think the students are phenomenal," De León said. "Their level of maturity makes me more effective because they are more receptive to the concepts that I'm trying to convey to them."
De León's class recently performed a thermal analysis test on a standard pop bottle that tested for the thermal properties of a polymer called PETE (polyethylene terephthalate).
PETE is found in many types of everyday consumer products, such as plastic pop bottles and butter containers. Recycling centers extract this polymer from plastic refuse for reuse.
The lab experiment focuses on treatment processes that eventually turn PETE plastic into a product. For example, De León said his students measure the PETE's degree of crystallinity in the pop bottle.
"Crystallinity increases the rigidity, the toughness of the product," De León explained. "If it didn't have any crystallinity, a typical pop bottle made of PETE would be much softer."
De León said the class teaches students about the fundamental principles of materials science.
"Materials science is not about making the end product," De León added. "We make the materials that industry can make the end products from."