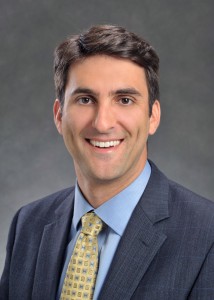 A 2001 mechanical engineering graduate, Ben Nimmergut was always fascinated with airplanes, getting to know them while his father worked as a pilot for United Airlines. But it wasn't until he devoted his last two years at Iowa State to the solar car team that he took an interest in Boeing.
Nimmergut—originally from the suburbs of Chicago—had attended a summer camp in Seattle, Wash., for several years as a kid and developed an appreciation for the environment there.
When he began looking for jobs at the College of Engineering career fairs, he put his focus on the Boeing branch in Seattle. Once he knew exactly what he wanted, he took charge.
"All my effort was to get a job at Boeing in Seattle," says Nimmergut. "There are many different paths to do that and, ultimately, I was successful literally by cold-emailing the recruiting manager and saying, 'I'm coming to Seattle, and I would love to have an interview.'"
The recruiting manager, Kim Pastega, was an Iowa State alumna herself and scheduled an interview for Nimmergut at 4 p.m. on a Friday with another manager. Aside from a two-year leave of absence to get his MBA, he's been working there ever since.
Nimmergut began as a design engineer and has taken on many different roles leading up to his current position as the 747 Interiors Chief Engineer, "which means I'm responsible for the design, manufacturing and certification of the interiors of a 747."
The new 747-8 was developed about five years ago, says Nimmergut, and he helped his boss lead the airplane's design, including a brand-new interior. Once the basic foundation for the interior is designed, he works with airlines to customize it for them.
He's also responsible for the technical safety of the product, so he is still involved with the hands-on engineering even though he's now an executive.
Becoming a manager was something Nimmergut decided to pursue because he loves working with people and likes being challenged.
"I've grown at quite the rapid rate and, in some cases, that has definitely taken me out of my comfort zone," he says. "But those experiences are where I look back and really appreciate how much I have grown and learned."
Since he earned his MBA in 2007, Nimmergut has held different management roles at the company. "I get to inspire and lead the team on trying to drive change, and that's what I really enjoy about my job," he says.
Being responsible now for all the 747 interiors, he oversees the work of about 380 people who also contribute to other models and projects. As an executive, he's learning the importance of focusing on the vision of the organization.
"It's important to keep priorities and focus clear because any day of the week I could be consumed with details from any one of those teams and what they're working on."
Working at the world's leading aerospace company means Nimmergut invests a lot of time in his job. The time he does spend out of the office is devoted to his wife Julie—a 2000 business graduate of Iowa State—and their two young daughters, with soccer on Saturdays, swimming on Wednesdays and camping on the weekends.
He also spends some of his time traveling for work, although he says that's only about four to six times a year. Often, that includes visiting Ames to recruit at career fairs, which he's been doing for the last four years.
Being heavily involved with the solar car team as a student at Iowa State, Nimmergut likes to check in with the team when he comes back and says he tries to be the Boeing contact for them.
"That was my biggest involvement on campus, and that's definitely where I learned that I love leading technical groups," says Nimmergut. "Boeing continues to sponsor the solar car team, either with money or, in years past, I've been successful to give material donations."
Boeing and Iowa State have had a strong relationship for a long time, with many ISU graduates going to work for the company. Nimmergut likes to watch the progression of alumni within the company, as well as the continuously growing relationship between the organizations.
"It's fun for me now to come back, to be able to recruit engineers, to give back to the different student groups," says Nimmergut. "I like that I was a student on the receiving end of that partnership, and now I'm on the other side, helping others with their success."