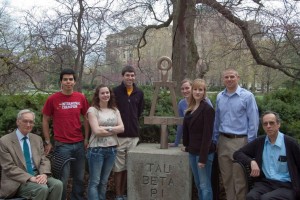 More than 450 people—including top engineering students—from 241 collegiate chapters around the U.S. will visit Ames from Oct. 31 to Nov. 2 for Tau Beta Pi's 2013 National Convention.
Tau Beta Pi is the only engineering honor society encompassing all branches of the engineering profession. It was founded in 1885 as the nation's second-oldest honor society.
Established in 1907, the Iowa Alpha Chapter has initiated more than 7,200 members since its inception. The chapter has hosted the annual convention four times (1988, 1954, 1924 and 1917).
Bids for hosting the convention are presented and considered three years prior to the event and approved by delegates attending the convention. Tau Beta Pi headquarters handles contracts with host hotels and organizes transportation for the convention delegates.
In recent years, conventions have been held at large hotels and conference centers in major cities. The Iowa Alpha bid to host the convention at ISU is a reversal to that trend, aimed at utilizing campus facilities and showcasing Iowa State's attractive campus.
Planning for the convention so far in advance presented a challenge for LeVern Faidley, the chief advisor of the Iowa Alpha Chapter. "We started about two years early since we wanted to host it here in Ames, and we needed to not host it on a football weekend," said Faidley.
"The year after we were selected as the host, the Big 12 lost teams and revised their football schedule and we had to change the date." In addition, all of the student leaders who were involved in preparing and submitting the winning bid have graduated.
German Parada, senior in chemical engineering and communications director for the Iowa Alpha Chapter, said the new scheduling was lucky in one respect, as it allowed two socials to be planned for the weekend, one being a costume party to celebrate Halloween.
Also serving as one of the convention co-chairs, Parada was initiated to the chapter in spring of 2011 and is one of its most active members, dedicating his time to regular weekly meetings as well as convention meetings leading up to the event. Grant Anderson, senior in mechanical engineering, is the other convention co-chair.
The convention will consist of professional development and engineering skills sessions, business and committee meetings, two social events, a small career fair, and campus tours, among other things.
Hosting the convention has its advantages. Each chapter sends a voting delegate—usually the president of the chapter—and a few additional members. "Being able to host a convention here at Ames is definitely an honor and an opportunity," Parada said. "Since it will be here, our members and new initiates will be able to attend some of the sessions and network with companies and engineers.
"It's a really good opportunity for Iowa State University to market itself—having top students come here and see what's in Ames, what's in Iowa, what we have and the strength of our programs."
Iowa Alpha has about 100 undergraduate and 50 graduate members this semester, and will be initiating more than 90 new members. To be considered for membership in the society, engineering students must be in the top eighth of the junior class or the top fifth of the senior class.
Members have the opportunity to develop a variety of skills through participation in the chapter's many outreach and community service activities.
"Tau Beta Pi is one of the honor societies included on transcripts," said Faidley. "Companies and people who've been in it realize the quality of people that are chosen to join Tau Beta Pi, so I think it's useful to our members in trying to get a job."