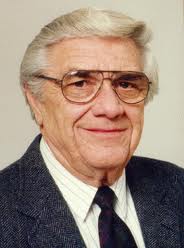 Donald Thompson, former director of Iowa State University's Center for Nondestructive Evaluation (CNDE) and professor of aerospace engineering and engineering mechanics, died peacefully on Tuesday, July 29, after a two-year battle with cancer. Thompson was 86 years old.
Thompson was a pioneer in the field of nondestructive evaluation (NDE), moving nondestructive testing to a more quantitative and science based approach for analyzing the condition of materials and safe life for structures.
Thompson joined ISU and Ames Laboratory in 1979. He was also part of ISU's Institute for Physical Research and Technology (IPRT) since its inception in 1987. With IPRT, Thompson initiated the creation of CNDE – a center devoted to researching, teaching and practicing NDE. Through a collaboration between CNDE and ISU's College of Engineering, Thompson helped develop a fully accredited minor in NDE within the college – a first-of-its-kind program.
Thompson began a phased retirement in early 1997. In 1999, he accepted a position as Scientific Advisor to IPRT's Director. Until his death he remained President of Quantitative Nondestructive Evaluation (QNDE) Programs – the entity which, together with CNDE, organizes the Annual Reviews of Progress in QNDE. Last week he attended the 40th QNDE meeting (July 21-26) where he was recognized for his contributions and role in developing the meeting and the field of NDE.
Prior to joining ISU, Thompson worked in a variety of positions for Rockwell International Science Center.  He was also a group leader in radiation effects at the Solid State Physics Division of Oak Ridge National Laboratory, and at the Air Force Cambridge Research Center, Atomic Effects Directorate.
Thompson was a member of the National Academy of Engineering, an Anson Marston Distinguished Professor, and a fellow of the Rockwell International Science Center, American Physical Society and the International Institute of Electrical and Electronic Engineers.
Thompson earned B.A., M.S. and Ph.D. degrees in physics from the University of Iowa.
"Don was a tenacious fighter for what he believed in, and his vision and perseverance did much to establish NDE in both the US and wider global R&D community," said Leonard Bond, CNDE Director and IPRT Interim Director. "He will be greatly missed by his many friends and colleagues in the NDE community."
A Caring Bridge website has been established for Don where further information can be found and tributes recorded. http://www.caringbridge.org/