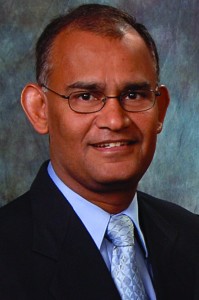 Arun K. Somani, associate dean for research at Iowa State University's College of Engineering, was awarded the 2013 IBM Faculty Award. This year's $20,000 award represents the third-straight IBM Faculty Award for the Department of Electrical and Computer Engineering. Vikram Dalal, Thomas M. Whitney Professor, won in 2011 and 2012.
"This award will be used for an expansion of our High Performance Computing efforts," Somani, the Anson Marston Distinguished Professor and Jerry R. Junkins Chair Professor in ECpE, said.
The IBM Faculty Award is an annual, worldwide competitive program intended to foster collaboration between researchers at leading universities and those at IBM. Faculty Awards are cash grants awarded to full-time professors at accredited universities that have an outstanding reputation for contributions in their field or show unusual promise.
Somani also is the major professor of ECpE's IBM Ph.D. Fellow Cory Kleinheksel, making him a natural candidate for the grant. With these awards, Somani and the ECpE Department continue to demonstrate strong ties with IBM.
"This will go together with the MRI award we received to provide financial support to expand the application of HPC in a number of research areas," he said.
Part of Somani's research involves finding new ways to structure data for High Performance Computing. Currently, Somani serves as the principal investigator for a proposal that brought the largest MRI grant ever received for computing equipment last year.
"Awards like this help us to continue our research and to make improvements to our methods," Somani said. "I want to thank IBM for its continued support."