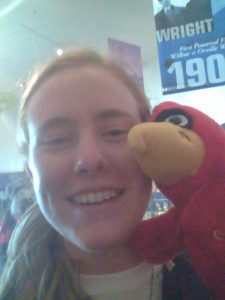 Guest post by Katie Goebel, project director for Iowa State's Team LunaCY
It's always worth the drive.
Twenty some hours in one of two vans full of goofy college kids and an even goofier advisor on a trip to Florida already sounds like the beginning to an interesting story. The story gets even better when one finds out that the reason for the trip is not the beaches or the seafood (although those are nice too), but a robotics competition. And the competition just happens to be at NASA's Kennedy Space Center.
For the past four years, Iowa State has taken some version of Art-E (Astro Robotic Tracked-Excavator) to Florida. This year we decided to nickname Art-E IV Hermes, who was a Greek god known for being a swift messenger. It's an aptly picked name, since our lunabot was created to excavate as much lunar soil (regolith) as possible during a ten minute competition round for NASA's Lunabotics Competition. NASA started the competition to get college students interested in the technology related to mining astrological bodies like the moon and asteroids for useful elements.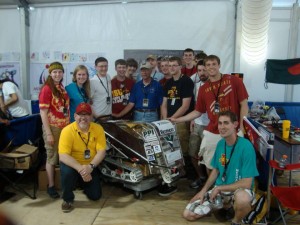 Hermes' design was based off last year's robot; it retains a bucket conveyor for excavating, a dumping hopper for storing and unloading regolith, and tracks to get around the arena. We lightened the frame, embraced more advanced manufacturing, created a more dust tolerant design, and added autonomous operation. At our practice run, both of the drive motors burned out and we had communications issues that made us lose contact with Hermes every few seconds. These setbacks forced us to keep up the sleep deprivation that we'd been nurturing since finals week. By the second official run, our lunabot was programmed to move autonomously without constant laptop command (in order to ignore the communication issue). However Hermes couldn't find the target on the collection bin, so we had to revert to manual control. In the end, our robot was able to mine 115.5 kg compared to its initial 24 kg practice run. By the competition's end, we achieved first place in mining, 3rd place in STEM outreach and the overall Joe Kosmo award (with the help of the work we put into spirit, the systems paper, the presentation and other aspects).
Being part of the club for the past three years has taught me a lot and given me opportunities and experiences I couldn't have found anywhere else. When I first joined I was curious about how the robot worked and liked doing things hands-on, so I showed up and learned a great deal by manufacturing parts. After my first semester in the club I wanted to help shape it for future members, so I took on leadership roles. Let me tell you, leadership can be hard, but there's no better way to gain more communication and management skills than having to shepherd around a flock of engineers in an attempt to get things done.
In the end, all the hard work is worth it when you get to see how well your robot maneuvers the course and spend time in Florida with the people you worked alongside all year. The reason our club thrives, and the reason I've stayed with it, is the people. We all have the drive to work on a unique electromechanical system and we have a lot of fun while doing it.
About the author: Katie Goebel is a senior in mechanical engineering from Urbandale, Iowa. In addition to her leadership role with the Lunabotics Club, she had an independent study class with Associate Professor Song-Charng Kong this spring, assisting with a project to develop a controls system for a newly acquired research engine. Goebel has also been a member of the ISUCF'V'MB (marching band), an undergraduate research assistant at VRAC, and a member of Engineers Without Borders among other activities. Embracing her ambition to study abroad, she will be studying at the University of Limerick in the fall. After graduation, Goebel hopes to find a job in mechanical engineering design or get into graduate school to learn about a specific aspect of design.