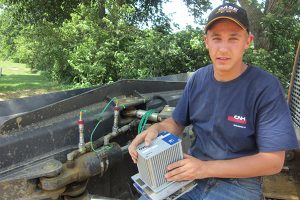 The Fluid Power Educational Foundation (FPEF) Board of Trustees awarded Brad Kruse of Dyersville, Iowa a $2,000 scholarship. Kruse is a senior majoring in agricultural systems technology.
Brian Steward, faculty coordinator of the ISU Fluid Power Laboratory and professor in agricultural and biosystems engineering, wrote a letter recommending Kruse for the award.
"I am probably as excited as Brad as he is the first student coming through our fluid power courses to receive this scholarship.  Here at Iowa State, we are training about 100 students each year in fluid power and have always considered fluid power training a major strength of our degree programs.  I look forward to encouraging more high quality students to apply for the FPEF scholarship in future years," said Steward.
After graduation, Kruse hopes to apply the knowledge and experience he gained at Iowa State and through internships to make an impact on the fluid power industry.
"My career goal is to find an occupation in product testing and development that heavily involves fluid power. Development and application of fluid power systems into the product testing field is my ultimate goal. I am intrigued by the capabilities and the integration of fluid power into almost all daily functions," said Kruse.
Because of his scholarly achievement, career goals, and drive, Kruse was an exemplary candidate for the FPEF award.
"A minimum GPA, an essay, and three letters of recommendation were required from each applicant. The Board of Trustees is pleased to award this scholarship to a student of Mr. Kruse's caliber," said Jimmy Simpson, CFPAI, FPEF Chair. "Our goal is to help young people enrolled in high schools, technical colleges and engineering schools pursue their interests in fluid power."
The FPEF awarded eighteen scholarships totaling $36,000 for the 2013 school year to students pursuing fluid power technology fields of study.
The Fluid Power Educational Foundation is a non-profit foundation committed to stimulate, advance, and support the science of hydraulic and pneumatic technology through educational initiatives at all levels. The FPEF is wholly supported by fluid power industry firms, associations, and individuals which enables FPEF to bring fluid power to students of all grade levels. For more information visit www.fpef.org or call 856-424-8998.