An Iowa State professor and two alumni were named 2013 Fellows by the American Institute of Aeronautics and Astronautics, one of the most prestigious honors in the field of aerospace engineering.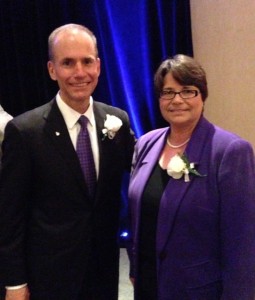 Christina Bloebaum, Dennis and Rebecca Muilenburg Professor of Aerospace Engineering, was honored at an awards presentation in Washington, D.C. alongside the alumnus her position is named for, Dennis Muilenburg.
Muilenburg, president and CEO of Boeing Defense, Space & Security, was introduced to Bloebaum for the first time at the event on May 8.
"It was a real pleasure to meet Christina and talk about the work she is doing at Iowa State," said Muilenburg. "We had a wonderful conversation and found that we have many common interests in the broader field of aerospace engineering."
To Muilenburg, the award also served as a reminder of the important work done by Boeing "and the sense of excellence it demands." He said working for Boeing for more than 27 years has been very rewarding for him.
Working on commercial aircrafts, satellites, spacecraft, military airplanes and more, Muilenburg said, "It's not about individual accomplishment, but the opportunity to be part of a team that designs, builds and supports world-changing capabilities for our customers."
Also honored as a Fellow was Kathleen Howell, a 1973 Iowa State alumna and current Hsu Lo Professor of Aeronautical and Astronautical Engineering at Purdue University.
"Any recognition from your colleagues is always particularly important," said Howell of receiving the honor. "They can assess the value of your work and most often recognize the impact on your discipline."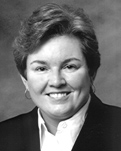 Howell is currently working on a project to develop "a 'road map' of trajectories" for spacecraft travelling in the Earth-Moon region.
"Some day in the not-too-distant future, vehicles might be moving more freely throughout Earth-Moon space and we want to know all the pathways in and through our own neighborhood," she said.
Bloebaum, Muilenburg and Howell joined 24 other Fellows announced in January. Fellows are considered to be the most respected names in the industry.
Muilenburg said he felt honored to receive the award and to be in the company of so many talented individuals.
"Being named a Fellow of AIAA is a humbling experience given the significant and longstanding contributions so many other Fellows have made to the aerospace community," he added.
Fellows are current members chosen by the Institute and its Board of Directors who have made "valuable contributions to the arts, sciences, or technology of aeronautics or astronautics." The AIAA is the largest technical society for the global aerospace profession.