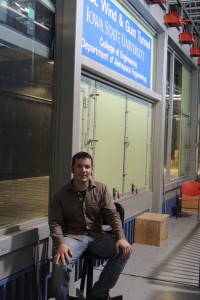 Benjamin Laswell, a junior in aerospace engineering, is one of over 700 outstanding undergraduate students from 270 colleges and universities across the U.S. who have been selected to receive the prestigious Benjamin A. Gilman International Scholarship, sponsored by the U.S. Department of State, to participate in a study abroad or international internship program during the fall 2013 academic term.  Laswell will study at the Nanyang Technological University in Singapore. Laswell joined Iowa State through the Admissions Partnership Program (APP) and has been working with Engineering International Engagement at Iowa State for the past year to prepare for this exciting opportunity to study abroad.
"The main thing about Singapore that won me over was their recent investment in the aerospace industry. In addition to strong growth in aerospace, Singapore has recently established the Seletar aerospace park – an industrial park which caters to the aerospace industry," said Laswell. "A career in research appeals to me, and the Nanyang Technological University's research intensive curriculum will give me a good opportunity to make connections in various research areas."
The program is administered by the Institute of International Education (IIE).  Recipients of the scholarship have the opportunity to gain a better understanding of other cultures, countries, languages, and economies — making them better prepared to assume leadership roles.  According to Allan Goodman, President and CEO of the Institute of International Education, "International education is one of the best tools for developing mutual understanding and building connections between people from different countries.  It is critical to the success of American diplomacy and business, and the lasting ties that Americans make during their international studies are important to our country in times of conflict as well as times of peace."
Since the establishment of the Gilman International Scholarship Program by the International Academic Opportunity Act of 2000, over 13,000 students nationwide have received this prestigious award.  The lists of students who have been selected to receive Gilman Scholarships for the summer and fall of 2013 are available at www.iie.org/gilman.