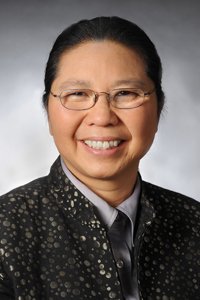 Civil, construction and environmental engineering (CCEE) Professor Kejin Wang was recently named to the 2013 class of American Concrete Institute (ACI) Fellows at the 2013 ACI Convention in Minneapolis, Minn.
An ACI Fellow is honored when he/she has served at least 10 years as an ACI member and has made outstanding contributions to the production or use of concrete materials, products and structures in the areas of education, research, development, design, construction or management.
Wang specializes in Portland cement concrete materials and pavements. She teaches concrete classes (CE 382 and CE 383). Her research interests include cement chemistry as well as concrete microstructure, workability and durability. She currently serves as associate editor and Editorial Board member of the Journal of Sustainable Cement-Based Materials, ASTM's Journal of Advances in Civil Engineering Materials and Journal of ASTM International.
Wang earned her PhD in civil engineering at University of California-Berkeley, MS in civil engineering at Chinese Academy of Sciences (China), and BS in civil engineering at Hefei University of Technology (China).