For Mike Conzett, promoting engineering licensure is an incredibly important means of guaranteeing a standard of professionalism in the field.
Conzett, an Iowa State University civil engineering alumnus, has been a licensed professional engineer since 1982. "It's taking your work and standing behind it," he says.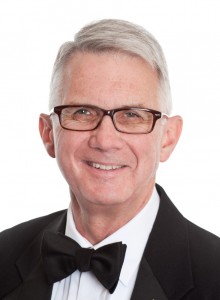 And he's made it a personal and professional goal to encourage others to become licensed as well.
Recently commissioned as the National Council of Examiners for Engineers and Surveyors (NCEES) Central Zone vice president, Conzett serves on the NCEES board of director's and is the zone's administrative officer through 2014.
He hopes it will ultimately lead to a position as president-elect and president of NCEES.
"As I wrap up my career, that would be a nice opportunity, to serve NCEES and promote licensure at the national level," he says.
Additionally, he is in his eleventh year serving on the Nebraska Board of Engineers and Architects and has served as a former board chair. He has also served on a number of NCEES committees, including chairing the Engineering Education Task Force.
"I've been involved to this degree because now more than ever, it's important to be able to demonstrate the highest degree of professionalism you can," explains Conzett. "In civil engineering, about 80 percent of engineers become licensed. Because so many civil engineers work on projects that directly affect the public's welfare and safety, it's critical to have this measurable standard you can point to. I think that should be true of all engineering disciplines."
Conzett completed a bachelor's degree at Iowa State in 1976 in civil engineering, a discipline he was drawn to by way of his interest in the environment.
"When I graduated from high school in 1972, there was a huge environmental awareness nationally, and a lot of federal money being pumped into new programs. The EPA was just starting," says Conzett. "I loved math and science, and I loved and was concerned about the environment. I looked around at all the social unrest, the tree-huggers, and thought that I could choose to be a part of that, or part of a real solution. It was very clear to me that civil engineering was my path."
Through the urging of his academic mentor Bob Baumann (distinguished professor emeritus of CCEE), he completed his master's program in civil engineering at Iowa State in 1978.
His graduate research work was funded in part by Procter & Gamble, and this led to a first job with the personal care and cleaning products giant in Cincinnati, Ohio.
He was with P&G for six years, and then moved to HDR in Omaha in 1984 to remain close to the environmental engineering work he was passionate about. Conzett is now a vice president and senior project manager for the engineering consulting firm, where he has spent a majority of his career studying soil and ground water contamination and designing remediation systems.
With such a positive experience in graduate school and a fulfilling career, Conzett says he wanted to help others reach their potential as well. That's why he has donated his P&G stock to Iowa State.
"It's my legacy for the research funding I received in graduate school," he adds. "With all the capital gains and growth that stock has seen, it's a way to give back to Iowa State in a way I couldn't have done otherwise, and I think that's pretty cool, for it to return full circle like that."
A Dubuque, Iowa, native, Conzett has remained loyal to Iowa State both as an alumnus and as a parent of three Iowa State graduates (Chris Conzett '07, Andrew Conzett '10, and Margaret Conzett '12.)
"My wife Valerie 'adopted' Iowa State, and we sent our kids there. We love being on campus when we can," he says.
Conzett also gives back to Iowa State through his service as a member of the College of Engineering Industrial Advisory Council, to which he has belonged for five years.
Through his work on the council, he communicates to academia how the engineering field is changing and how Iowa State students can be better prepared.
"The profession has become more and more influenced by public opinion and awareness, and also by public demand. It's more important than ever before that engineers be educated about the political process, law, and public policy," Conzett explains. "It's also important for engineers to have communication, risk analysis, and business skills. We've gone from being a profession of analytical worker bees to being people who must be leaders in the public square."