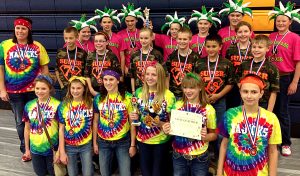 It's a big commitment. But Chris Rhinehart just can't limit her school to one FIRST LEGO League team.
"My kids love it," said the sixth grade math, reading and enrichment teacher at BCLUW Middle School in Union. "That's why I can't do only one team."
And so there's the sixth grade Super 7's. There's the seventh grade Spectacular Spades. And there's the eighth grade MAJiCKS.
All three teams entered a regional competition last month, trying to impress judges and earn one of the 72 spots in the Iowa FIRST LEGO League Championship Jan. 19 at Iowa State University's College of Engineering. The competition for teams of 9- to 14-year-olds is 9 a.m. to 5 p.m. in Howe Hall on the west edge of campus. The event is free and open to the public.
This year's competition is called "Senior Solutions" and is focused on the issues facing senior citizens. Students have been asked to think about how seniors can remain independent, engaged and connected to their communities. The students have also built moving LEGO robots capable of sliding, hooking and moving LEGO pieces. It's all about simulating some of the challenges and joys of the senior lifestyle.
Could their robot, for example, retrieve the correct bottle of medicine? Go bowling? Plant flowers?
Two of Rhinehart's teams – the Spectacular Spades and the MAJiCKS – won spots at the annual state competition. (There were 37 teams competing for seven state spots in the school's regional event. "Getting to state is tougher and tougher," Rhinehart said.)
Camille Sloan Schroeder, the director of Iowa FIRST LEGO League who oversees K-12 community outreach for Iowa State's College of Engineering, said there are now more than 400 teams across the state. That's a jump of more than 100 teams over the last year.
"It's a very popular program and we've had to create extra events and support for the teams," she said. "We've had teams going to new regional events and brand new teams coming to the state championship."
FIRST LEGO League is one of 12 programs selected by the Governor's Science, Technology, Engineering and Math (STEM) Advisory Council for statewide promotion and expansion. The ultimate goal of the public-private advisory council is to create greater student achievement in STEM fields and build a stronger workforce for Iowa.
Schroeder said FIRST LEGO League is very effective at STEM education because it's "really holistic. It's not just all about the robot or the research or the teamwork. It's all of that together."
Besides, she said, "STEM is very broad. And FIRST LEGO League does that very well. Students can geek out on anything they want."
Iowa State's College of Engineering has directed and sponsored the state championship for 11 years as part of its outreach and recruiting efforts. The championship is also sponsored by Rockwell Collins, the K. Engel Engineering Outreach Endowment, the Mark Guidry Foundation, General Mills and Loren Zachary, an Iowa State professor of aerospace engineering.
FIRST LEGO League is the creation of FIRST, a nonprofit organization based in New Hampshire that's dedicated to inspiring young people to explore science and technology, and the LEGO Group, the Denmark-based toy manufacturer.