When faculty members from the Aerospace Engineering (AerE) department were in need of small steel bars used to test for failure, faculty from the Agriculture and Biosystems Engineering (ABE) department stepped up to provide just that. Faculty members from the ABE department and the AerE department recently found a way to partner with one another that benefits students from both disciplines.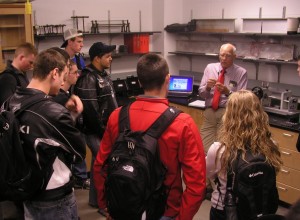 Students enrolled in Engineering Mechanics 327, Mechanics of Materials Laboratory, learn how to measure the breakage point of specific types of materials.  Students are trained to use a machine that applies a torsion load to a small steel bar called a torsion test specimen. After continually adding stress to the steel or brass rod called a torsion test specimen.  After continually twisting the specimen it eventually breaks, allowing students to determine the behavior of the material under a torsion load.
The machine that previously performed these tests was outdated and difficult to use. Joseph Schaefer, course instructor and senior lecturer in aerospace engineering, was pleased when the department was able to replace it with a state of the art instrument with a computer interface. However, with this new piece of equipment came new challenges, including the additional cost of purchasing torsion test specimens for students to use.
The set of specimens supplied with the new machine are manufactured in Europe and cost approximately $11 each. Reluctant to pay the high price for the over 100 samples his students would need each semester, Schaefer began to brainstorm for alternatives. After meeting with James Benson, a teaching laboratory associate in aerospace engineering, he found a solution.
Benson referred Schaefer to the ABE department, where Associate Professor David Grewell, teaches Technology Systems Management (TSM) 240, and is assisted by Russ Hoffman, Teaching Laboratory Coordinator. TSM 240 educates students about the manufacturing of metals and plastics, and the laboratory allows students to gain hands-on experience. It was obvious to both Grewell and Hoffman that creation of these torsion bar specimens would fit well into the curriculum of the class.
"We had been looking for a manufacturing project for the students that wouldn't be thrown into a scrap pile once they were finished," Hoffman explains. "This seemed like the perfect opportunity for the students to create something with a purpose while also fulfilling a need for students and faculty from another department."
The ABE lab simulates a real-world work environment by splitting students into three groups, with each group working to perfect a different portion of the specimens. Students learn how to operate each machine and determine exactly how settings must be programmed in order to achieve the correct specimen dimensions. They spend time troubleshooting when equipment isn't working properly and can call upon course team leaders to aid them in determining where production issues originated.
Kelsey Groff, senior in industrial technology, and Gage Fiscus, senior in agricultural systems technology, were team leaders for their section of the ABE course.  As team leaders, the two were involved in the entire production process, playing the role of plant managers while their classmates served as production line workers. Hoffman and Sara Underwood, graduate teaching and research assistant for the course, played the role of the plant supervisors, receiving regular production updates from the team leaders.
"Communication was vital for the success of the production," says Groff. "It was my role to effectively communicate and be the connection between my classmates and my bosses, Russ and Sara. During the entire process, I wrote down new ideas to improve production time, ways to save on production expenses, and how to cut back on operating costs. The ideas were a combination of my own thoughts and my classmates."
Groff and Fiscus both felt that the opportunity to serve as team leaders was a rewarding experience, and one that has given them a much deeper appreciation for the organization of a production plant. Furthermore, Schaefer and his students are pleased with the quality of specimens the ABE class was able to provide.
"We've been very enthusiastic about this partnership because it's a good example of one department fulfilling the needs of another while benefitting students at the same time and saving money," says Schaefer. "It was an ideal opportunity."
After completing the production process, students from TSM 240 were invited to visit the aerospace lab and learn exactly how their products were to be used. While there, Schaefer showed the ABE students how the torsion test was performed and explained why the cost efficient, on-site creation of the specimens was so important for his class.
Overall, both departments expressed much satisfaction with the partnership. While they plan to continue this project in the future, they also hope that this opportunity will help to cultivate future collaborations.
"These types of collaborations between departments are critical for Iowa State to remain competitive," says Grewell. "I hope this collaboration will grow exponentially and spark others as well."