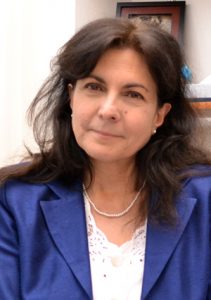 Janis Terpenny, industrial and manufacturing systems engineering department (IMSE) chair and Joseph Walkup Professor, has been named a 2012 ASME Fellow. Her selection as Fellow follows an impressive career wherein Terpenny is known nationally as a leader in engineering design education, research, and practice.
ASME Fellows are nominated by their peers and have had ten or more years of active practice in engineering and continuous membership in the organization. The ASME Board of Governors awards the Fellow grade of membership to worthy candidates in recognition of their outstanding engineering achievements. Only 3% of ASME members are Fellows.
"When the news came that I was selected, I was honored and delighted," said Terpenny. "I am humbled to join the ranks of other ASME Fellows, who are leaders, pioneers, and often very humble and gracious people."
A long-term member, Terpenny has made it a priority to participate in several ASME activities, including serving as an associate editor for the Journal of Mechanical Design and chair of the Design Engineering Division (DED) Committee for Broadening Participation of Women and Minorities, both since 2008.
She has also been active in the annual International Design Engineering Technical Conferences (IDETC) for many years, authoring and presenting papers, and serving as review coordinator as well as session moderator.
Terpenny's selection was based on years of contributions to both education and research in the engineering design field. In her work, she focuses specifically on processes and methods of early design; knowledge and information in design; product families and platforms; obsolescence in products and systems; and complexity of products and systems.
She is most widely recognized for co-founding and directing the Center for e-Design, a National Science Foundation (NSF) industry and university cooperative research center.
"Over the years, the center has seen considerable success, growing from the initial two universities and ten company members to now seven universities and nearly 40 companies. An additional two universities are in the process of joining the consortium," explained Terpenny.
She has also made a name for herself among many prominent organizations in engineering. Besides her role as keynote speaker at several venues, she has served on the organizing committee of two Harvey Mudd Workshops in 2009 and 2011, and the 2010 National Capstone Design Conference. Additionally, Terpenny has served as the co-editor of special issues for the International Journal of Engineering Education (IJEE). She is also a Fellow of IIE, the Institute of Industrial Engineers.
Terpenny previously served as a program director in the Division of Undergraduate Education (DUE) at NSF for TUES, MSP, STEP, and S-STEM programs. In this role, she delivered seminars and workshops nationally, made funding recommendations, and managed grants. She says she did these things with the intent of mentoring the engineering education community, inspiring and promoting systems thinking and integrated approaches in design education that are grounded in sound research methods.
Terpenny's career as a teacher and scholar has led to her managing over $7 million in sponsored research and authoring 140 peer-reviewed publications.
Her 2011 appointment as chair of IMSE at Iowa State has fostered departmental growth in several areas, including a sharp up-turn in research productivity; increased collaboration across departments and colleges in research and teaching; and setting up the Iowa State site of the NSF Center for e-Design.
"It has been an exciting and fast-paced year for me," Terpenny explained. "My first year with IMSE has included much activity and optimism in the department and for me personally. I am quite proud of the many accomplishments we have seen in such a short period of time."