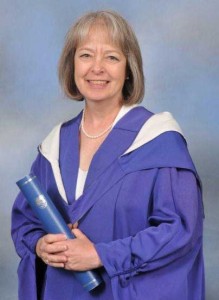 Judy Vance, Joseph C. And Elizabeth A. Anderlik Professor of Engineering, has received an Honorary Degree of Doctor of Engineering from Heriot-Watt University in Edinburgh, U.K.
Heriot-Watt University has awarded Honorary Degrees every year since 1966, and has recognized more than 400 exceptional individuals for their outstanding achievement and distinction in spheres of activity that align with the mission and ambition of the university.
Vance was honored for her preeminence in, and outstanding innovative contribution to, advancing virtual reality engineering design applications, as well as for her influence as an advocate to promote the participation of women in engineering.
She first started collaborating with Heriot-Watt University after a Virtual Manufacturing Workshop in 2006 at the IEEE Virtual Reality Conference. Since then, she has participated in visits, given keynote presentations, and helped create relationships between Heriot-Watt University and the wider American virtual reality community.
Vance and her family traveled to Scotland in June 2012, where she was acknowledged in a formal ceremony at the university.