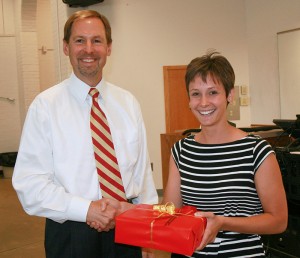 On July 17, 2012, colleagues across the College of Engineering gathered in Marston Hall to wish Jonathan Wickert well on his next endeavor – becoming the next senior vice president and provost at Iowa State.
The event, hosted by the college's department chairs and associate deans, was held to honor the outstanding leadership and
service to students, faculty, and staff Wickert provided during his tenure as dean.
Surya Mallapragada, professor and chair of chemical and biological engineering, served as mistress of ceremonies, introducing several speakers, including Ted Heindel, interim chair of mechanical engineering and Bergles Professor of Thermal Science; Balaji Narasimhan, Vlasta Klima Balloun Professor of Engineering and associate dean for research; and Chloe Dedic, graduate student in mechanical engineering and the college's student marshal during the spring 2012 commencement ceremony. Each shared personal stories of how Wickert impressively advanced and impacted the college on so many different levels.
Janis Terpenny, Joseph Walkup Professor and chair of industrial and manufacturing systems engineering, also presented Wickert with an artistic rendering of Marston Hall.