Daisy Isibor, a junior in the Iowa State University Computer Engineering program, was awarded the Microsoft Technology Scholarship, a $5,000 award for the 2012-13 academic year.
Isibor, a transfer from the University of Northern Iowa, is spending the summer as an intern at Microsoft's Redmond, Wash. headquarters and is a member of the Phi Eta Sigma Honor Society and the National Society of Collegiate Scholars. She was a 2007 gold medalist at the E-biko International ICT Olympiad in Turkey and participated in the 2010 International Olympiad in Informatics in Ontario, Canada. In addition, Isibor is an undergraduate research assistant for Arun Somani, Anson Marston Distinguished Professor in the Iowa State Department of Electrical and Computer Engineering.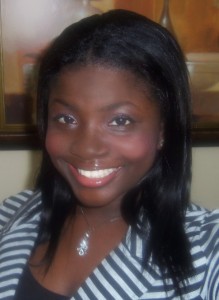 "She is an amazing student," Somani says, "careful with details and thorough in her understanding of subject matter in classes and in research. It is a real treat to work with student like her."
Microsoft awarded scholarships to students from 46 schools in the latest round of education funding. Microsoft scholarships are awarded based on a number of criteria, including merit, diversity, commitment to leadership, and a nominee's interest in a career in technology.
"Our 2012-2013 scholarship winners are a creative and talented group of aspiring technologists," said Jaime Green, University Recruiting and Diversity Program Manager at Microsoft. "They are already demonstrating the type of informed curiosity and determination we look for. I have no doubt that this group will significantly contribute to the field of technology in the years ahead."
Isibor says her experiences over the last few years have strengthened her commitment to education and to Iowa State.
"I came to Iowa State University because of the great opportunities here in the College of Engineering and throughout the university," she says. "Since my first semester here, I have been privileged to work with an exceptional research team led by Dr. Somani. This experience has really prepared me for my internship at Microsoft this summer and for my engineering career. I am very grateful for the solid foundation Iowa State is helping me build. I strive to make the best out of my cyclone life by working hard, getting involved in campus and community activities, building strong relationships, and positively impacting the lives of other students on campus in any way I can."