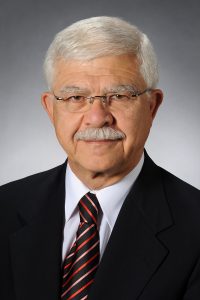 Professor Mufit Akinc, a faculty member at Iowa State University since 1981, has been named interim dean of the College of Engineering effective July 30.
He succeeds Jonathan Wickert, who will assume the role of senior vice president and provost at Iowa State on the same date.
"I am very pleased that Mufit has agreed to serve as interim dean," said current ISU Executive Vice President and Provost Elizabeth Hoffman. "He did an excellent job as chair of materials science and engineering from 1995 to 2006, and has continued to serve the college in a leadership role in international programs. He has great relationships with alumni and donors, and works to build bridges across the university."
Akinc is a professor of materials science and engineering and has led the college's international engagement initiative since 2010. He also holds a courtesy appointment in chemical and biological engineering, and is an associate scientist for the U.S. Department of Energy's Ames Laboratory.
"It is an honor and a privilege to serve as interim dean of one of the largest and most outstanding engineering colleges in the country. I am mindful of the gravity of this responsibility and will do my best to live up to the expectations and trust bestowed on me with this assignment," Akinc said. "With the support of colleagues and friends of the college and ISU senior leadership, we will maintain the momentum achieved during Dean Wickert's tenure and transfer the leadership of the college to the permanent dean in a timely fashion."