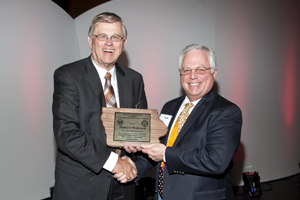 Thomas F. Werderitsch, a 1966 Iowa State construction engineering alumnus, was honored with the 2012 Build Iowa Award at the Master Builders of Iowa (MBI) Leadership Breakfast February 22 in Des Moines.
The MBI selects a recipient for the award annually for illustrating skill, responsibility and integrity in his or her life. Honorees are not only recognized for performance within the construction industry – they are honored for service in their communities.
Werderitsch is retired president of Selzer Werderitsch Associates, based in Iowa City. He also was MBI Chairman of the Board, as well as Vice Chair, Treasurer and Secretary, and has served two terms on the MBI Board of Directors. In addition, Werderitsch has served on many AGC of America committees.
In his career in the construction industry, several projects demonstrate some of his best efforts. These include the Celebration Farm and the Kinnick Stadium Remodel, both in Iowa City.
His exemplification of skill, responsibility and integrity does not stay within the construction industry, however. He remains active in his local community and received the Governor's Volunteer of the Year Award in 2011. In addition to being a member of the Rotary International and member of the Johnson Country Community Foundation, he also serves on the Iowa City Chamber of Commerce, having served as President, Secretary and Treasurer at the latter. He serves on the Board of the Goodwill of the Heartland and is a past board member of the Shelter House of Iowa City. He has been very involved with his church, having been on numerous committees with the Zion Lutheran Church in Iowa City.
MBI is a chapter of the Associated General Contractors of America and is a widely recognized leader of the construction industry in Iowa.
Communications Intern Brady Rebhuhn contributed to this story.